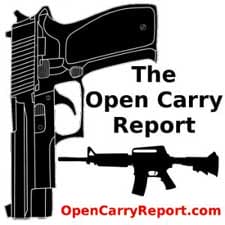 Texas –-(Ammoland.com)- If you support Open Carry in Texas and listen to only one episode of only one podcast between now and the next legislative session then Episode 10 of the Open Carry Report should be it.
You can find the show notes, listen, and download the audio at http://OpenCarryReport.com/010
The guests in alphabetical order were Alice Tripp From the TSRA, Charles Cotton who works with Alice, and C.J. Grisham the president and founder of Open Carry Texas.
OCR #10 is over one and a half hours of discussion about what needs to be done to legalize open carry. The discussion focused on if the open carrying of long guns was hurting legislative efforts or if it was helping matters.
Open Carry Texas, along with other groups, has used long gun open carry to push the issue of handgun open carry into the spotlight. Without their efforts there is doubt we would be where we are now.
Legislators and candidates are asking that protesters stop the long gun OC due to pressure they are receiving from voters on the issue.
With elections coming up those politicians are really concerned about anything that voters pressure them on.
http://traffic.libsyn.com/opencarryreport/OCR-010.mp3
About The Open Carry Report Podcast: The Open Carry Report is hosted by Aaron Heath and is a completely independent production. The Open Carry Report aims to produce content that generates helps legalize open carry, unlicensed carry, and improve upon laws that relate to all forms of carry. Additionally the Open Carry Report aims to help network ProGun activists who share common goals and wish to work together.
Being based in Texas causes Aaron to focus more on generating content towards the effort to legalize OC in Texas however lessons learned there can be applied to other other states where open carry is suppressed. The Open Carry Report Podcast is available on iTunes and Stitcher as well as it's own website located at http://OpenCarryReport.com. The host can be reached via eMail at ocr@OpenCarryReport.com.