Today is Thursday, March 05, 2015
RSS feed
By AWR Hawkins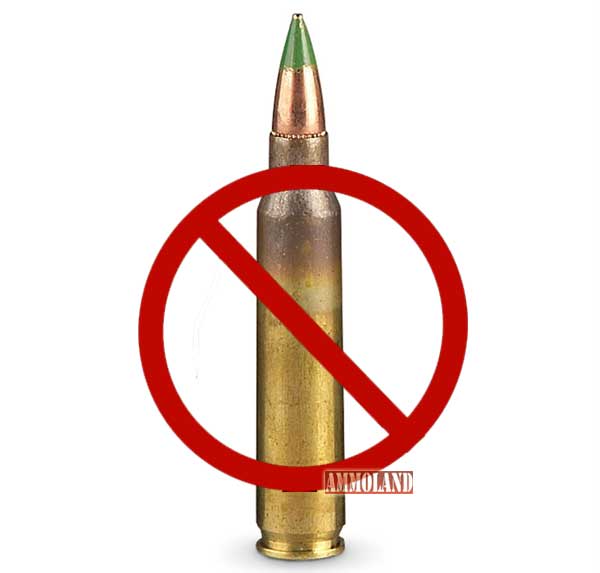 Washington DC - -(Ammoland.com)- On March 4 2015, Fraternal Order of Police (FOP) executive director James Pasco said Obama's proposed ban on M855 ammo is not necessary.
At 325,000 members, the FOP describes itself as "the world's largest organization of sworn officers."
According to the Washington Examiner, Pasco said the M855 "has not historically posed a threat to law enforcement." Rather, he indicated that the round was most commonly used for shooting targets.
And while Pasco made clear that while any ammunition can be problematic if misused, he said the M855 round itself "is not typically" one that is used against law enforcement.
Pasco's claims square with studies done on the types of weapons criminals most often use in crime. Types of weapons are important because they are indicative of types of ammunition.
For example, on June 18 Breitbart News reported that a "Geneva-based research project Small Arms Survey" found that the firearms used in 77 percent of crimes were handguns, and that rifles of any kind were used in less than 12 percent of crimes. Of the 12 percent of crimes in which a rifle was used, the number of "machine guns, submachine guns," and related weapons was so small it was listed as "negligible."
Pasco's explanation that the AR-15 ammo ban isn't necessary came just two days after the White House said the ban was a "common sense" way to save cops' lives. As Breitbart News reported, WH press secretary Josh Earnest said the Obama administration has been looking for "ways to protect our brave men and women in law enforcement, and believe that this process is valuable for that reason alone."
Follow AWR Hawkins on Twitter @AWRHawkins.
About:
AWR Hawkins writes for all the BIG sites, for Pajamas Media, for RedCounty.com, for Townhall.com and now AmmoLand Shooting Sports News.
His southern drawl is frequently heard discussing his take on current events on radio shows like America's Morning News, the G. Gordon Liddy Show, the Ken Pittman Show, and the NRA's Cam & Company, among others. He was a Visiting Fellow at the Russell Kirk Center for Cultural Renewal (summer 2010), and he holds a PhD in military history from Texas Tech University.
If you have questions or comments, email him at awr@awrhawkins.com. You can find him on facebook at www.facebook.com/awr.hawkins.
Cleveland, O.H. --(Ammoland.com)- Ultimate Upland founder Brian Koch partnered with author and outdoor columnist Christine Cunningham to introduce a petition for the first federal stamp for upland habitat conservation.
Koch and Cunningham co-authored the article, "It's Time for The Federal Upland Stamp", to voice concerns regarding the declining upland bird habitat in the United States and create an opportunity to highlight the cultural value of upland game species to broader audiences.
"For the last century hunters have been a leading force in conservation," said Koch. "The goal of the Federal Upland Stamp is to build a new program to reverse the losses of upland habitat and the resulting negative impacts to the numerous species of wildlife that exist in those spaces. We believe bird hunters should take charge of a new conservation measure that places an emphasis on stewardship."
The petition will survey wildlife enthusiasts regarding proposed stamp costs and how to utilize funds generated by an upland stamp managed by the U.S. Fish and Wildlife Service. Following the petition, Koch and Cunningham plan to work with federal agencies, members of U.S. Congress, and conservation organizations to begin conversations on shaping the proposed Federal Upland Stamp and the future of upland habitat conservation.
"When we talk about the most serious threats to hunting today, the most critical issue hunters' face is loss of habitat," said Cunningham. "Grassland bird species have suffered steep declines over the last 50 years. Recent listings and the nationwide scope of the problem make conservation a priority. An upland stamp does not just provide funds toward conservation, it will highlight the value of upland birds to a wider audience."
Ultimate Upland is the first organization to support the Federal Upland Stamp. Fellow bird hunter, Christine Cunningham, brings her commitment to conservation and passion for creating opportunities for women hunters to become more involved in the hunting community.
To read the full article click here or to learn more about the Federal Upland Stamp and to sign the petition, visit uplandstamp.org or go to Ultimate Upland's Facebook page for updates.
Ultimate Upland
Ultimate Upland was founded in 2010 to be the most comprehensive resource for upland hunting enthusiasts. Since then it has grown into a community where bird hunters congregate and share their love for the sport. The website captures a detailed panorama of real wild bird hunting from all over the country with stories and photos from the field. Ultimate Upland promotes common sense hunting, ethics and fair chase and demonstrates that hunting opportunity is earned through dedication, experience and hard work. The upland hunting community carries a wide range of experience and knowledge and must continue to lead the conversation on conservation issues. www.ultimateupland.com
By Alan Caruba
New Jersey --(Ammoland.com)- The revelations, reported initially in the most left-wing newspaper in the nation, The New York Times, that Hillary Clinton used her own private emails to conduct public business, suggests that there are forces within the Democratic Party that do not want her to be its candidate for President in 2016.
It's not like Hillary did not know she was supposed to use the State Department's email system for reasons of national security; her private emails could have been hacked by forces unfriendly to the U.S. All government employees are routinely briefed on the laws that require this.
For the record, I am no fan of Hillary Clinton. On September 18 of last year, I wrote a commentary titled "Go Away, Hillary" in which I asked "Other than earning her law degree, name one thing that Hillary Clinton has accomplished on her own. Her accomplishments—slim as they are—have been achieved on the coattails of either Bill Clinton or Barack Obama."
Beyond Hillary, what I object to is the necessity to raise millions with which to secure either Party's nomination and a billion to run for the presidency. We are electing someone who has literally bought the election courtesy of donors who have made the selection for the rest of us. There is something fundamentally undemocratic about that.
That said, I don't think Hillary Clinton will run in 2016.
That may surprise you, but it surprises me as well. And, yes, I could be wrong, but the revelations about her patently illegal email use while Secretary of State suggests that there are forces within her Party that want to end her candidacy now rather than later. They are sending her a message.
Ron Fournier is the Senior Political Columnist and Editorial Director of National Journal. Prior to that, he worked at the Associated Press for 20 years, most recently as its Washington Bureau Chief. On March 3rd 2015, he wrote an opinion piece titled "Maybe she doesn't want to run in 2016, top Democrats wonder. Maybe she shouldn't."
"Two weeks ago," wrote Fournier, "we learned that the Clinton Foundation accepted contributions from foreign countries. Assurances from the Obama administration and Clinton aides that no donations were made during her tenure as Secretary of State were proven false."

"Now The New York Times is reporting that Clinton used a personal email account to conduct government business as Secretary of State, an apparent violation of federal requirements that her records be retained." He quoted one unnamed "senior Democrat" as saying "This story has legs as long as the election", noting that many senior Democrats "are angry."

"My concern," wrote Fournier, "is that Clinton does not see this controversy as a personal failing. Rather, she sees it as a political problem that can be fixed with more polls, more money, and more attacks." He described her problem as "a lack of shame about money, personal accountability, and transparency."
If there is one thing to which the Democratic Party is totally dedicated, it is winning the White House and control of the Congress. Ever since President Obama has been in office, it has taken a beating as voters have relentlessly transferred power to the Republican Party in Congress and in many States. It is an unmistakable trend and one that must keep Democrat strategists up at night.
In January 2014, a Pew Research poll found that 69% of women who identified themselves as Democrats hoped to see a female President in their lifetime, compared to only 20% of Republican women. In April 2014, a Rasmussen poll found that "51% of likely U.S. voters have at least a somewhat favorable opinion of Clinton, while 44% view her unfavorably."
The Huffington Post analysis of the Pew poll concluded that "not wanting Clinton in office is the only one explanation for Republican woman's relative lack of enthusiasm about electing a candidate of their own gender", adding that "It may be that (the) gender of a candidate has simply become a less compelling factor for voters…"
Six years of having a President who was elected primarily because he is black have taught voters that race and gender are insufficient factors on which to base one's vote.
Six years of a sluggish economy, massive unemployment, declining wealth among the Middle Class, and a disaster called foreign policy will influence 2016 votes along with, of course, whoever the candidates may be.
So I will return to my conjecture that Hillary, no matter her desire to be the first woman U.S. President, will also have to address the practical realities of politics. Opposition from within the Democratic Party will likely be a deciding factor. She has put off announcing her intentions until April. If she puts it off again that would suggest some deep misgivings.
If you had the choice between a life of great wealth and fame as opposed to the daily inquisition and criticism that comes with the presidency, which would you choose?
c Alan Caruba
About:
Alan Caruba's commentaries are posted daily at "Warning Signs" his popular blog and thereafter on dozens of other websites and blogs. If you love to read, visit his monthly report on new books at Bookviews.
Middletown, CT --(Ammoland.com)- With great pleasure Arsenal Firearms can finally and officially announce that our brand new product – the AF2011 Dueller Prismatic – was selected some months ago to be one of the key weapons featured in the new James Bond movie "Spectre", due to be released globally in November this year, 2015.
Arsenal Firearms supplied 5 stainless pistols to the James Bond production team in fall last year, to take part in various contemporary locations shootings.
The guns, originally fully functioning and chambered in .45 ACP, have been modified to shoot special movie-blank rounds.
The technical challenge was quite demanding, as for the first time the movie industry specific adaptation team had to assess the functionality with a double barrel semiautomatic pistol.
This high profile movie participation of the exclusive double barrel pistol will set a whole new standard for Hollywood and global movie making, when action-packed scenes are required, unique effects and breath-taking, never seen operations are to be expected.
More pictures and a short clip of the making of Spectre can be see at the official James Bond website by clicking the link below:
http://www.jamesbondlifestyle.com/news/ultimate-guide-spectre-bond-24-products-and-locations
For more high-resolution, real life shooting of the AF2011 Dueller Prismatic, see the video next:
Arsenal Firearms Group – The Board. Visit: www.arsenalfirearms.com
Updating you on our work in Europe.
Ireland --(Ammoland.com)- I was in Brussels last week at a meeting of European fieldsports body, The European Federation of Associations for Hunting & Conservation  (FACE), of which the Countryside Alliance is an active member.
I am honoured to be FACE's UK Chairman and to represent British sporting interests at the highest level and I can feed back some interesting points from the meeting.
I have some good news to report in that the move to reopen the Firearms Directive, being pushed by some as a means to reduce trafficking of illegal firearms, has drifted in the last couple of months. You may recall that in late 2013 when this was first mooted by Commissioner Malmstrom I wrote that while it is a laudable aim to reduce the trafficking of illegal firearms, the impact would be felt by the law-abiding shooting community because focusing on legally held firearms is easier than trying to root out the illegal. Read that e-newsletter here.
We are by no means out of the woods yet, but it would be a victory for common sense if this Directive was not re-opened, especially on this pretext. We will continue to communicate with MEPs and make representations to this effect.
On a less positive note the new Environment Commissioner, Karmenu Vella, has been asked to look at the Birds Directive to see whether there is over-protection of habitats at the expense of development. The danger is that re-opening the Birds Directive could be the perfect opportunity for the likes of Birdlife International (the RSPB at international level) to try to reclassify certain species from Annex 2 (shootable) to Annex 1 (protected). An extremely close eye will be kept on this, and as ever any misguided and/or negative moves will be countered by both the Countryside Alliance and FACE. As and when it would be helpful for you to take action on this issue we will of course let you know.
With the news that the EU-initiated study into the toxicity of lead has been put on hold, and with the recent reversal of a lead shot ban in Norway, views in Brussels about lead could slowly be changing for the better.
It is increasingly clear that the evidence for a ban on lead shot is sparse.
Barney White-Spunner
Executive Chairman
About
Countryside Alliance Ireland has been active since the early 1960s, providing Irish sportsmen and women with high levels of information and advice and representation. Over the years as the political environment has changed we have evolved into a highly effective campaigning organisation. Countryside Alliance Ireland is governed by an elected "Board" made up from members throughout Ireland. The Board sets policy and oversees financial and operational matters. Countryside Alliance Ireland partner groups nominate members of the "Board" also, making it truly representative of country sports interests in Ireland. Visit: www.countrysideallianceireland.org
This event is 2A FlashMob Approved, anyone attending will automatically qualify for their own FREE 2A Mob Patch.
Maryland -–(Ammoland.com)- We have one week until "Gun Bill Day" in the Senate Judicial Proceedings Committee on Thursday, March 12 2015.
We would encourage everyone to show up and testify in person on at least one bill, if not more.
If you are not able to testify in person, MSI has partnered with NRA-ILA to collect written testimony and make the appropriate copies. Send your written testimony to marylandtestimony@nrahq.org, preferably as a .PDF or .docx by midnight March 8, 2012.
The NRA-ILA will print out your written testimony, make the 20 copies needed for the committee and deliver them by the deadline of noon on March 12 2015.
In the next couple of days, we will send out an additional update with information on how you can send in written testimony for any and all of the bills listed here and in the House Gun Bill Day update, to include an e-mail address to send it to, as well as formatting information.
The following is a list of bills up for hearing in the committee, with a brief synopsis and what MSI thinks of the bill:
SB0017 — (Cross-filed as HB0101) Baltimore City School Police Force – Carrying of Firearms – Scope — No Position

Authorizing a Baltimore City school police officer to carry a firearm on the premises of a Baltimore City public school and any other property used for an educational purpose owned, leased, or operated by, or under the control of the Baltimore City Board of School Commissioners; etc.
mgaleg.maryland.gov/webmga/frmMain.aspx?…b=subject3&ys=2015RS

SB0100 — (Cross-filed as HB0767) Public Safety – Permit to Carry, Wear, or Transport a Handgun – Qualifications – Support

Clarifying that self-defense can qualify as a good and substantial reason to wear, carry, or transport a handgun for purposes of the issuance by the Secretary of State Police of a permit to carry, wear, or transport a handgun.
mgaleg.maryland.gov/webmga/frmMain.aspx?…b=subject3&ys=2015RS

SB0136 — Crimes – Use of a Firearm in the Commission of a Crime – Diminution Credits and Sentencing – Support

Prohibiting the earning of diminution credits to reduce the term of confinement of an inmate committed to the custody of the Commissioner of Correction or sentenced to a term of imprisonment in a local correctional facility who is serving a sentence for the use of specified firearms in the commission of specified crimes; prohibiting a court from suspending any part of a mandatory minimum sentence of five years; and applying the Act prospectively.
mgaleg.maryland.gov/webmga/frmMain.aspx?…b=subject3&ys=2015RS

SB0261– (Cross-filed as HB0189) Public Safety – Handgun Permit Background Investigation – Armored Car Company Employees – No Position

Authorizing the Secretary of State Police to accept a background investigation performed on behalf of specified armored car companies in place of a specified criminal history records check performed by the Department of Public Safety and Correctional Services under specified circumstances.
mgaleg.maryland.gov/webmga/frmMain.aspx?…b=subject3&ys=2015RS

SB0326 — (Cross-filed as HB0477) Public Safety – Handgun Permits – Term – Support with Amendments

Authorizing the Secretary of State Police to set the date for expiration of a handgun permit under specified circumstances; and clarifying that an expiration date for a handgun permit does not apply if the permit is renewed under specified circumstances.
mgaleg.maryland.gov/webmga/frmMain.aspx?…b=subject3&ys=2015RS

SB0407 — Public Safety – Handgun Permits – Support with Amendments

Requiring the Secretary of the State Police to issue a specified handgun permit within 120 days under specified circumstances; requiring the Secretary to notify, in writing, each applicant for a permit of the decision to approve or deny a permit within 120 days after receipt of the application; etc.
mgaleg.maryland.gov/webmga/frmMain.aspx?…b=subject3&ys=2015RS

SB0447 — Sales and Use Tax – Tax-Free Periods – Hunting and Sporting Goods – Support

Establishing a sales and use tax exemption period for the 7-day period from the third Sunday in April through the following Saturday for hunting and sporting goods shopping in Maryland during which the sales and use tax does not apply to the sale of firearms, fishing supplies, and hunting supplies if the taxable price of the item is less than $1,000; etc.
mgaleg.maryland.gov/webmga/frmMain.aspx?…b=subject3&ys=2015RS

SB0454 — (Cross-filed as HB0464) Handgun Permits – Reciprocity – Support with amendments

Specifying that a permit to carry a handgun, including a concealed handgun, issued to an individual by another state is valid in Maryland.
mgaleg.maryland.gov/webmga/frmMain.aspx?…b=subject3&ys=2015RS

SB0530 — (Cross-file of HB0857) Criminal Procedure – Firearms – Transfer – Support with Amendments

Requiring a court to inform a person convicted of a specified offense that the person is prohibited from possessing a firearm under specified provisions of law; providing that if a person commits a specified offense and the offense is a domestically related crime, the court shall order the person to transfer all firearms owned by the person or in the person's possession; providing for the procedure to transfer firearms; authorizing the disposal of a firearm under specified circumstances; etc.
mgaleg.maryland.gov/webmga/frmMain.aspx?…b=subject3&ys=2015RS

SB0736 — Public Safety – Handgun Identification Requirements – Repeal – Support

Repealing a provision of law requiring specified firearms manufacturers and dealers and the Department of State Police to take specified actions relating to identification of handguns.
mgaleg.maryland.gov/webmga/frmMain.aspx?…b=subject3&ys=2015RS

SB781 – Public Safety – Handgun Permit – Temporary Training Waiver – Support

Authorizing the Secretary of State Police, on making a determination that an applicant has demonstrated evidence of imminent danger to the applicant, to temporarily waive a specified requirement to complete a specified firearms training course; and requiring a specified permit to require completion of a specified course within 60 days after the issuance of the permit.
mgaleg.maryland.gov/webmga/frmMain.aspx?…b=subject3&ys=2015RS
Maryland Shall Issue, Inc.
1332 Cape Saint Claire Road #342
Annapolis, Maryland 21409
240-446-6782
Mission Statement: Maryland Shall Issue is an all volunteer, non-partisan effort dedicated to the preservation and advancement of all gunowners' rights in Maryland, with a primary goal of CCW reform to allow all law-abiding citizens the right to carry a concealed weapon; and to the education of the community to the awareness that 'shall issue' laws have, in all cases, resulted in decreased rates of violent crime.
About 2A Flashmob: 
In an effort to motivate gun owners and Second Amendment Supporters to show up in person at important events and rallies AmmoLand Shooting Sports News is giving away FREE 2A Flashmob Patches to anyone who attends a protest, rally, open carry event, committee hearing at your state capital or a Anti-Gun counter protest. (You may already be eligible)
Spread the word, get out, get active!
New York, NY --(Ammoland.com)- TSM Worldwide LLC is pleased to announce the rolling spin-off of the United Nations (UN) International Small Arms Control Standards (ISACS) Accountability Project (IAP).
The provisional mission of the IAP is to help close the accountability gap with respect to the development and implementation of the ISACS.  The IAP is a spin-off non-profit public interest research and advocacy initiative independently carried out by a coalition of stakeholders interested improving the accountability and responsiveness of UN public authorities to the interests, goals, and concerns of all stakeholders affected by their informal international lawmaking.
In the future, additional information can be found at the dedicated website for the IAP (www.isacs-ap.org), which is currently under development.  Membership inquiries can be sent to membership (at) isacs-ap.org.
Background
The UN ISACS effort started in 2007 as a multi-stakeholder initiative (MSI) to develop normative instruments for UN member states (to incorporate into their national regulations and/or legislation) on various aspects of the small arms and light weapons (SALW) issue.
In the field of international law, "normative" instruments are those aimed at steering behavior of actors and/or determining, reducing, or otherwise constraining the freedoms of actors, and/or unilaterally shaping the legal or factual situation of actors.  [1]  Actors can be state or non-state in nature.  Non-state actors are generally understood to include, among other things, corporations and individual private citizens.
In the words of ISACS Project Coordinator Dr.  Patrick Mc Carthy, ISACS was envisioned to "serve as a powerful strategic and operational instrument of SALW control." [2]   However, several years of history shows that the ISACS MSI essentially compromised on three sets of principles in the pursuit of its goals:
ISO principles of international standards development.  One of these principles is that international standards development is a multi-stakeholder process.
UN principles of professional and ethical conduct.
The third set of principles comes into the picture on account of published reports and statements variously made in the UN by ISACS participants aligned to the interests, goals, and concerns of industry.
The SALW industry, broadly understood, includes not just manufacturers of arms and ammunition, but other interested parties such as other companies in supply and distribution chains, retailers, consultancies, competitive shooting groups, hunting and conservation groups, collector groups, adult and youth training organizations, hobby clubs and associations, civil arms rights advocacy groups, and the more than 62% of the total American population (about 198 million people) who believe having a gun at home makes them safer.
References
[1] J. Pauwelyn, R. Wessel, and J. Wouters (eds), Informal International Lawmaking (OUP, Oxford, 2012) pp. 16, 22.  Also includes reference to A. von Bogdandy, P. Dann, and M. Goldman, 'Developing the Publicness of Public International Law: Towards a Legal Framework for Global Governance Activities' (2008) 9 German Law Journal 1375, 1376.
[2] P. Mc Carthy.  'ISACS Background Paper.'  UN CASA.  14 Nov 2008.  p. 4.  Online: http://tsmworldwide.com/?attachment_id=2029
Distribution  Notice
© TSM Worldwide LLC.  Online republication and redistribution are authorized when this entire publication (including title, byline, notes, hyper-links, and this distribution note) and linkable URL here are included.  See other published international legal items here.
A convenient and refillable kit for superior pistol maintenance on the go.
Woodstock, NY --(Ammoland.com)- RamRodz now offers their innovative, caliber-specific gun cleaning swabs in a convenient assortment box.
The Range Kit for Pistols ( tiny.cc/an2zux ) provides a fast and superior firearm cleaning product for your work bench or at the range.
The RamRodz caliber specific, low-lint cotton heads expand into rifling grooves and conform to barrel walls to clean the maximum surface area with each pass.
The flexible, yet durable bamboo handles bend without breaking, allowing easy access to hard-to-reach areas.
The Range Kit consists of a 680-piece assortment of disposable pistol cleaning swabs with 8″ flexible bamboo handles. The sizes include .22, .38/9mm, .40, .45, and .50 caliber barrel cleaners, as well as the 3″ breech cleaner model for detailing all critical firearm components. This refillable case also features a Caliber Gauge Sizing Chart to help keep your collection organized.
Order your own RamRodz Range Kit on Amazon: http://tiny.cc/an2zux
For more information, email info@ramrodz.com, ask your local distributor for the Range Kit for Pistols, or go to www.ramrodz.com.
USA --(Ammoland.com)- Trevor Koenig is highlighted this week as he returns to the Lone Star State. Reunited with his teammates 'The Eliminators' Trevor competes in the Junior Division of the Sportsman's Team Challenge and shoots alongside his Dad in the two person event.
Trevor shares the importance of working together as a team on the shooting line and by identifying each other's strengths and shooting skills, it'll achieve a knock-out shooting performance.
The course of fire is six events, three of which are reactive steel targets shooting .22 rimfire rifles, .22 rimfire pistols and centerfire pistols at different distances. The remaining three events involve shooting clay targets thrown randomly simulating hunting scenarios.
Trevor commented, "Stepping up to the line with a shooting strategy in place is one thing, but as the targets rush past you, the fun factor kicks in and focusing on the target becomes a real test of discipline."
Koenig has competed in the Junior Division the past five years, and has developed his own shooting style and level of confidence.
A strong advocate in supporting the next generation of shooters, Doug said, "Watching the juniors participate with their families and friends each year reinforces what the Sportsman's Team Challenge is all about, creating a fun-filled event that builds confidence and friendships."
Doug Koenig's Championship Season returns to the Sportsman Channel. Each week Doug delivers hunting and shooting tips whether he's stalking big game, on a fair chase hunting adventure or preparing to compete at a world class level match. Doug's success and dedication to the shooting sports is captured along with his passion as an avid hunter; so come along to share the excitement with your entire family to ensure your day afield is memorable.
Doug Koenig's Championship Season can be viewed on Sportsman Channel.
Thursday 7:00 p.m. (Eastern)
Monday 12:00 p.m. (Eastern) Re-airs 3/9/15
Friday 3:00 a.m. (Eastern) Re-airs 3/13/15
Be sure to keep up with all of Doug's hunting adventures and shooting competitions at https://www.facebook.com/DougKoenigChampion and @doug_koenig on Twitter.
By AWR Hawkins
Washington DC - -(Ammoland.com)- On Wednesday, gun control advocate Gabby Giffords stood with Democratic lawmakers on Capitol Hill to demand that everyone buying a gun be required to undergo the same background check Jared Loughner underwent to acquire the Glock he used to shoot her in 2011.
Yes, Loughner acquired his firearm via a background check, as did Jerad and Amanda Miller (Las Vegas), Elliot Rodger (Santa Barbara), Ivan Lopez (Fort Hood 2014), Darion Marcus Aguilar (Maryland mall), Karl Halverson Pierson (Arapahoe High School), Paul Ciancia (LAX), Aaron Alexis (DC Navy Yard), James Holmes (Aurora theater), Nidal Hasan (Fort Hood 2009), among others.
But Giffords and her husband, Mark Kelly, stood with Democrat lawmakers to argue that expanding background checks to include gun show sales is a way of "stopping violence." [What?]
The most prominent firearm-related public violence events of the last few years were carried out by men and women who passed background checks to get their firearms. So can someone explain again how applying background checks to more sales will reduce violence, much less stop it?
This is just one more reason why the new gun control push faces a even steeper climb than the one Senator Joe Manchin (D-WV) undertook in 2013. Or, to put as The Washington Post did, "The latest Gabby Giffords push for… gun controls is new. The outlook isn't."
Follow AWR Hawkins on Twitter: @AWRHawkins.
About:
AWR Hawkins southern drawl is frequently heard discussing his take on current events on radio shows like America's Morning News, the G. Gordon Liddy Show, the Ken Pittman Show, and the NRA's Cam & Company, among others. He was a Visiting Fellow at the Russell Kirk Center for Cultural Renewal (summer 2010), and he holds a PhD in military history from Texas Tech University.
By Dr. Gary S. Smith
Grove City, PA --(Ammoland.com)- Last month we celebrated the birthdays of George Washington and Abraham Lincoln, two presidents whose deep but somewhat unconventional faith has evoked great debate.
Does the faith of presidents truly matter? ( tiny.cc/awyzux ) Does it significantly affect how they think, live, and govern?
Concluding that it does not, most biographers have treated presidents' religious convictions as no more important than hobbies such as collecting stamps or playing golf. Many other Americans, however, have considered the faith of presidents as either a cause for celebration or alarm. While Christians often campaigned vigorously and voted in droves for candidates who shared their faith, their foes warned that the dangerous religious views of other presidential aspirants made them unacceptable for the nation's highest office.
In the presidential campaign of 1800, Federalists denounced Thomas Jefferson as an infidel who would subvert the nation's Christian foundation. Rumors spread that, if elected, Jefferson would use public funds to entice civil servants, teachers, military officers, and even ministers to either ignore religion or teach secularism. After Jefferson won, these claims prompted many Federalists in New England to bury their Bibles in their gardens so that his administration could not destroy them.
In 1908, Theodore Roosevelt assured apprehensive prospective voters that William Taft's Unitarian faith did not disqualify him from being president. Twenty years later, fundamentalist Protestants argued that Democratic candidate Al Smith's Catholicism made him unfit to be president. Despite John F. Kennedy's assurances that he would be guided by the Constitution and his conscience, not the pope, his Catholic faith was as controversial in 1960 as Smith's had been in 1928.
Jimmy Carter's affirmation that he was born again baffled and frightened many Americans as did George's W. Bush's assertion that Jesus was his favorite philosopher. Many worried that their decisions would be based on what they perceived God wanted them to do rather than on the advice of their cabinet and the nation's strategic needs.
Are these concerns justified? Does the faith of presidents truly affect how they govern?  Does it help shape their perspectives, policies, actions, and decisions?  The answer depends on which chief executives we are discussing. The faith of some presidents (such as Kennedy ironically) mattered little. The faith of many others, including Hoover, Carter, Bush, and surprisingly Jefferson, strongly influenced their political philosophy and policies.
Although it is impossible to disentangle the personal religious convictions of presidents from their use of religion to serve partisan political purposes, many of them were more deeply religious and had more vibrant personal devotional lives than most scholars have recognized. Presidents use religious language and engage in religious practices to win public approval and gain political advantages. Therefore, we must judge whether their faith is authentic by examining their private correspondence as well as their public pronouncements and evaluating the testimonies of those who knew them best. We must also assess their statements and behavior before, during, and after their presidencies.
Their religious practices —frequent church attendance, prayer, and reading of the Bible— close relationships with some religious groups, regular use of religious rhetoric, and particular policies all testify that their faith was important to many chief executives. Most presidents have worshipped consistently to continue their life-long practice, seek divine guidance, set a good example, or to please prospective voters. Almost all presidents have extensively used moral and biblical language to console grieving Americans, provide assurance in times of crisis, celebrate religious holidays, and promote particular policies.
The faith of many presidents has also helped shape their policies and determine their decisions. Numerous other factors —strategic considerations, national security, party platform commitments, campaign promises, political philosophy, relationships, and reelection concerns— affect their decisions. Nevertheless, their religious commitments have strongly affected the policies many presidents adopted. Religious beliefs helped inspire George Washington's quest to guarantee religious liberty, Jefferson's to ensure peace, and Abraham Lincoln's to end slavery. Their Christian convictions helped prompt William McKinley to declare war against Spain and take control of the Philippines, Theodore Roosevelt to establish national parks, Woodrow Wilson to devise the Treaty of Versailles, Herbert Hoover to reform prisons, and Franklin Roosevelt to remedy the ills of the Great Depression. Harry Truman's decision to recognize Israel, Dwight Eisenhower's attempt to reduce armaments, Carter's quest to promote human rights, Ronald Reagan's crusade to crush communism, Bill Clinton's efforts to resolve international conflicts, George W. Bush's support for faith-based initiatives, and Barack Obama's policies on poverty were all motivated in large part by their faith.
Has the faith of presidents affected them and their administrations positively or negatively?  The answer to this question depends largely on how individuals view the religious convictions and policies of particular presidents. However, when people's faith gives them confidence, assurance, comfort, and inspiration, it is generally beneficial. People's faith often stimulates them to be more compassionate, generous, and hopeful and supplies a constructive blueprint for bettering society. Moreover, the faith of presidents has often greatly aided them in carrying out their demanding duties and serving as the nation's pastor-in-chief during crises and calamities.
Faith has played a very important and often controversial role in the lives of American presidents from George Washington to Barack Obama. Although the founders wisely separated church and state, religious belief and politics have often been inextricably joined and will undoubtedly continue to be.
–Gary Scott Smith is a fellow for Faith and Politics at the Center for Vision and Values. He is the author of Faith and the Presidency: From George Washington to George W. Bush (Oxford University Press, 2006) and Religion in the Oval Office: The Religious Lives of American Presidents (Oxford University Press, 2015).
Grants Pass, Oregon –(Ammoland.com)- Where to Winter vaction? Swiss Alps? Bahamas? Hawaii? Forget it…
With the price of M855 ammo skyrocketing, we decided to take a staycation in Grants Pass, Oregon!
We took the Tatra deep into the woods long enough to dump a few mags into well placed steel with a couple of our badass select-fire rifles (shown in 5.56, and 300 blackout suppressed).
About Noveske Rifleworks:
Noveske Rifleworks focus is to manufacture and provide a combat ready weapon capable of precision accuracy with 100% reliability. It is our honor to provide these tools to our Nation in these historic times. www.noveskerifleworks.com
BELLEVUE, WA --(Ammoland.com)- The Second Amendment Foundation has authorized court action if the proposed ban on .223-caliber ammunition is implemented by the Bureau of Alcohol, Tobacco, Firearms and Explosives, the foundation's general counsel has warned in a letter to BATFE Director B. Todd Jones.
Writing for SAF, general counsel Miko Tempski tells Jones, "This proposal is just an attempt to limit firearms rights because the President's other such attempts have been blocked through constitutional checks and balances on his power.

"Should the BATFE lawlessly proceed on this path," Tempski warns, "SAF intends to call on those checks and balances to stop the Administration's executive overreach again."
Tempski's three-page letter dissects the BATFE proposal, noting repeatedly that M855 ammunition at the center of this controversy "is not armor piercing pursuant to the definition in the statute." The federal provisions requires that a cartridge fire a "full jacketed projectile large than .22-caliber designed and intended for use in a handgun…," or to otherwise be fit for use in a handgun and have a core "entirely constructed" form a specific list of non-lead metals to be prohibited.
Tempski explained that the M855 round does not meet either of these criteria. He said the first definition, "fails immediately as the 5.56 x 45 mm round is not designed and intended for use in a handgun," and he questioned the ATF's honesty with regard to the second definition, noting that a "small tip of steel making up less than 1/6th of the projectile" cannot be used to claim the bullet or its core are "entirely" steel.
"The proposed framework," he writes, "intends to define the intended purpose of ammunition based on the availability of certain types of handguns made for it. Such a circular definition is highly illogical in any context."
The comment period remains open through March 16. People may submit comments to:
Email: APAComments@atf.gov
Fax: (202) 648-9741.
Mail: Denise Brown, Mailstop 6N-602, Office of Regulatory Affairs, Enforcement Programs and Services, Bureau of Alcohol, Tobacco, Firearms, and Explosives, 99 New York Avenue, NE, Washington, DC 20226: ATTN: AP Ammo Comments.
The Second Amendment Foundation is (www.saf.org) the nation's oldest and largest tax-exempt education, research, publishing and legal action group focusing on the Constitutional right and heritage to privately own and possess firearms. Founded in 1974, The Foundation has grown to more than 650,000 members and supporters and conducts many programs designed to better inform the public about the consequences of gun control.
---
By Thomas Sowell
California --(Ammoland.com)- Random thoughts on the passing scene:
When President Obama keeps talking about "violent extremists" in the abstract, you might wonder whether Presbyterians are running amok.
The mainstream media seem desperate to try to find something to undermine Republican governor Scott Walker's rise in the polls. The worst they have come up with is that he didn't finish college. Neither did Bill Gates or Michael Dell. The Wright brothers didn't finish high school. Neither did Abraham Lincoln or George Washington.
Have you noticed that there seem to be an ever growing number of things that we are not supposed to say in public?
Given the Obama administration's repeatedly failed policies in the Middle East and the lost credibility of the president's glib pronouncements, Israeli prime minister Benjamin Netanyahu's address to Congress may be many Americans' first chance to get a realistic assessment of the Middle East situation and its potential for international catastrophe.
Attempts to bring order out of the chaos in the paper jungle of my office usually get nowhere until I finally break everything down into just two categories: (1) urgently needed and (2) trash to be thrown out.
It is going to take time to secure the border, and it ought to take time for Congress to explore the facts about immigrants from different countries before voting on new immigration legislation. Both processes can be going on at the same time. But those who want border security laws and immigration laws passed together — "comprehensive immigration reform" — are for denying us that time. Why?
State Department official Marie Harf said, "We cannot win this war by killing them" but instead we need to get to the "root causes" of jihads by providing "job opportunities." We tried getting at the "root causes" of crime back in the 1960s — and crime rates skyrocketed. But we stopped the Nazis in World War II by killing them, instead of setting up a jobs program in Germany.
The old advertising slogan, "What happens in Vegas stays in Vegas" may or may not have been true. But surely the West should know by now that what happens in the Middle East does not stay in the Middle East. Throwing Israel to the wolves and signing agreements with Iran will not buy "peace in our time" and allow us to further shrink the military and expand the welfare state.
Academics often defend tenure, despite its many negative consequences, on grounds that it allows academic freedom for independent minds. Yet there are few places in America with more taboos and intellectual intolerance than academic campuses. The young are indoctrinated with demographic "diversity" that contrasts with a squelching of diversity of ideas on social issues.
It is remarkable how the Internal Revenue Service has been "losing" e-mails that Congressional investigators want to see and how "global warming" researchers have been "losing" the raw data on which their dire predictions have been based. In the social sciences, people just frankly refuse to allow their raw data to be seen by critics of such sacred cow policies as affirmative action.
The radical feminist movement, so ready to go ballistic at any little remark that can be twisted to mean something offensive to women, has been strangely silent while ISIS has been raping women and even little girls wholesale, and selling them as sex slaves. Is the silence of the radical feminists just political expediency or moral bankruptcy? Or both?
Secretary of State John Kerry says that there is less violence than usual in the world right now. Meanwhile the Director of National Intelligence, James Clapper, says the opposite, that terrorism is more violent and dangerous than ever. Since Clapper is Director of National Intelligence, maybe Kerry should have the title Director of National Stupidity.
We should never again put a first-term Senator in the White House. But, of the three Republican first-term Senators who are prospective candidates for the 2016 nomination for president,
Marco Rubio is one of the very few politicians of either party to publicly admit that he was wrong on a major issue — immigration. He may well be ready for the White House in 2020.
About Thomas Sowell
Thomas Sowell is a senior fellow at the Hoover Institution, Stanford University, as well as a prolific author including Black Rednecks And White Liberals. His website is www.tsowell.com. To find out more about Thomas Sowell and read his articles visit his website above.
Moriarty, NM -(Ammoland.com)- Based in Moriarty, New Mexico, ERGO Grip develops and manufactures small arms accessories for civilian, law enforcement and military use worldwide.
The company, which began with innovations such as the ERGO Grip and the F93 Pro Stock, has expanded to produce precision engineered firearms accessories focused on the most important part of the firearm, the shooter.
What began as an enthusiast's hobby, providing fellow shooters with custom grips and stocks, has growninto a thriving business. Dedicated to providing military, law enforcement, and civilian shooters with thefinest user focused firearms accessories available, the people of ERGO Grip have grown their businessthrough a combination of precision manufacturing and exemplary customer service.
All ERGO products are 100% manufactured in the USA to the highest standards and the tightest possibletolerances. ERGO Grip is committed to customer satisfaction. Products are backed by a Limited LifetimeWarranty. If for any reason a product fails to provide a customer with the utmost in service and reliability,or does not meet or exceed their expectations, please afford ERGO the opportunity to help or answer anyquestion you may have by calling Sales & Customer Service at 1-877-281-3783.
Visit www.ergogrips.net for more Ergo Grip product information or call 877-281-3783
About Ergo Grip
Ergo Grip/Falcon Industries provides grips, rail covers, stocks and firearms accessories for law enforcement, military and commercial users. Ergonomically designed and 100% USA manufactured from the best materials available, Ergo Grip products create a perfect interface between the user and firearm for superior control, comfort and shooting performance. Ergo Grip/Falcon sells to OEMs, dealers, distributors, law enforcement and government agencies.
By Alan Caruba
New Jersey --(Ammoland.com)- On Wednesday, March 4 2015, the Supreme Court will hear the King v. Burwell case.
It is likely to deliver a death blow to ObamaCare when the decision is announced in a few months.
About the only good thing ObamaCare demonstrated is that the federal government should be kept from taking over sectors of the nation's economy that are working just fine without it.
Health care expert Edmund Haislmaier and legal expert, both of The Heritage Foundation, provided an explanation of the case.
"The question before the Supreme Court is whether the Obama administration overstepped its authority in issuing an IRS ruling that conflicts with the ObamaCare statute. The statute allows payment of ObamaCare subsidies only to individuals who obtain coverage 'through an Exchange established by (a) State.'"
ObamaCare got such a cold reception nationwide that 34 States refused to set up an exchange, forcing the feds to do it. Those exchanges distributed subsidies to individuals participating in them, but the ObamaCare statute "seemingly did not authorize subsidies in such cases." Suffice to say that ObamaCare health insurance is considerably more costly than what one could have previously purchased on one's own; thus the need for the subsidies gambit.
The February edition of Health Care News, published by The Heartland Institute was filled with articles attesting to the failure of ObamaCare. Here are a few excerpts from them.
Devon M. Herrick, Ph.D., a health economist and senior fellow at the National Center for Policy Analysis, noted "Obama touts the claim (that) millions more people are now covered under health care insurance policies through employer plans. However, research has shown exchange subsidies will cause employers to drop coverage…Mandatory benefits are not free; workers bear the cost in the form of lower wages."

Dr. Herrick added, "Obama said (in his State of the Union speech that) 'in the past year alone about ten million uninsured Americans finally gained the security of health coverage,' but he neglected to mention roughly 6 million were coverage through Medicaid expansion and many of them were finding it difficult to find doctors willing to work for the paltry fees state Medicaid programs pay doctors for treatment."

An article by Matthew Glans, a Heartland senior policy analyst, noted that "The Health and Welfare Committee of the Tennessee Senate voted on February 5 to reject a bill that would have allowed Gov. Bill Haslam to expanded Medicare under the Affordable Care Act."

Kenneth Artz reported that "A new study by the Office of Inspector General for the Department of Health and Human Services found half of all providers listed in Medicaid managed-care plans are not available to new Medicaid patients, either because they are not at the listed location or aren't accepting new Medicaid patients." Feeling ill? "For doctors who are accepting new Medicaid patients, the average wait time to get an appointment is two weeks, with close to 25% of patient having waits of one month or longer."

Tom Steward, writing for the Minnesota Bureau of Watchdog.org, contributed to Health Care News noted that "In a significant victory for religious liberty and economic freedom, the American Manufacturing Company received a permanent federal exemption from provisions of the Affordable Care Act that contradict the owner's religious convictions."

Sean Parnell, the managing editor of Health Care News, reported that "Rhode Island officials predicted up to 100,000 residents would use the state-created exchange established under the Affordable Care Act to buy health insurance in 2014. Data from the state show only 27,961 people enrolled during the 2014 open-enrollment period, a number that declined throughout the year as many enrollees failed to pay their first premium or later dropped coverage."
ObamaCare is on critical care because it could die at any time. Not surprisingly, three Republicans, John Kline, Paul Ryan, and Fred Upton, chairmen respectively of the House Committee on Education and Workforce, Ways and Means, and Energy and Commerce, have put together a plan to address the likelihood that the Supreme Court decision will put an end to ObamaCare.
As they said in a recent Wall Street Journal commentary, "If the court rules against the administration, as any fair reading of the law would demand, millions of individuals and families will hit a major roadblock. They'll be stuck with health insurance designed by Washington, D.C., that they can't afford."

"What we propose is the off-ramp out of ObamaCare toward patient-centered health care. It has two parts: First, make insurance more affordable by ending Washington mandates and giving choice back to the states, individuals and families. And, second, support Americans in purchasing the coverage of their choosing."
What a unique idea! Let people choose the health care plan they want and that they can afford. That's the way it used to be before the Affordable Care Act was passed entirely by Democrat votes because the GOP would not support it. That's why Congress is controlled by the GOP these days. And that's why this nation will return to the free marketplace.
c Alan Caruba
About:
Alan Caruba's commentaries are posted daily at "Warning Signs" his popular blog and thereafter on dozens of other websites and blogs. If you love to read, visit his monthly report on new books at Bookviews.
New Jersey - -(Ammoland.com)- A pandemonium inducing podcast of pandemic proportions, without the propaganda! ~ according to our friend Josh
Words of Wisdom:
"The whole of the Bill [of Rights] is a declaration of the right of the people at large or considered as individuals… It establishes some rights of the individual as unalienable and which consequently, no majority has a right to deprive them of." – Albert Gallatin, Oct 7 1789
We also note that Albert Gallatin was known for engineering the withholding of finances by the House of Representatives as a method of overriding what he viewed as overreach by the executive branch.
Weekly News Update – An all Ammoland Edition!
West Virginia Senate Passes Constitutional Carry! – In a decisive 32 – 2 vote constitutional carry garnered 14 votes from senate and every Republican vote. According to the bills current language, the permitting process would remain in force for those who wish to seek a permit for reciprocity purposes.
Rally in Spokane, WA – 

At 11:00 AM on March 6th, there will be a rally to protest the arrest of Anthony Bosworth. He was arrested and detained for several hours, reportedly in a steel cage, only to be released due to intervention by the local Sheriff.

Misbehaving Republicans in Wyoming – Republican Senators in the Wyoming State Senate substituted a gun control bill for a pro-gun bill, which had passed the house by a vote of 42-17. Wyoming Gun Owners has been keeping tabs and will work to educate voters on how their elected officials have been performing.
We love hearing from you!
Use our contact page, send us an email, or even send a voicemail.
John's Field Trip behind the Second Amendment Iron Curtain
John took a trip, venturing entirely too close to the heart of darkness New York City to the Gun for Hire Range with a couple of friends. The shooting experience there continues to be excellent. While there, he rented and shot a Smith and Wesson Model 29, to shoot some 44 Magnum! He also had the opportunity to sample the Patriots Pork Roll Canteen. We can tell you the Trenton Musket Dog, and the service, were very good.
Court Denies rehearing in Anti's effort to ban traditional lead ammo.
In John's opinion, this is the second prong in the fight against our 2nd Amendment rights by way of ammunition. The underlying decision, and this denial, are a definite win for those who value freedom. This should serve as a reminder of our need to be vigilant, so that we can recognize the variety of tools that those who would strip us of our rights may use.
2nd Amendment Free Agency in the Wild
Other folks in social media have been seen expressing ideas similar to those on this show two weeks ago. Ideas about how more groups may be better than fewer. About how we are a community that exists outside of the membership of a particular group.
A final thought for those in organizations, don't get hung up on hierarchy!
Thanks for listening!
About the Show
The Bear Arms Show is your weekly source for 2nd Amendment news and commentary delivered in a fun, entertaining way. The show is hosted by two brothers, John and Michael Willett. They are both veterans of the U.S Military and lifelong firearms enthusiasts. The Bear Arms Show focuses on efforts to protect, and restore, the right to keep and bear arms. Additionally, the show features interviews with 2nd Amendment news-makers and advocates throughout the United States. Visit: www.beararmsshow.com
John Willett
Freedom lies in being bold. – Robert Frost
MONTEZUMA, Iowa – Brownells has proudly released the 11th edition of its very popular catalog specifically for the 1911, which is entirely d, the new catalog features an expanded ammunition section with numerous calibers and loadings to accommodate the many conversions available today.
Fans of popular red-dot sights compatible with the 1911 platform will be excited to check out the Optics & Optics Mounts section, which highlights the C-More STS-2, the Burris Fastfire III and others.
Additionally, Catalog #11 features five new 1911 Dream Guns built by famous gunmakers and companies like Larry Vickers, Ed Brown and Cylinder & Slide – as well as Brownells' own employees – to help provide customers with ideas for customizing or building their own 1911 Autos.
"The 1911 catalog is one of our most popular catalogs," said Brownells President/COO, Matt Buckingham.

"Number 11 is packed with thousands of top-quality parts, tools and accessories that appeal to every type of 1911 enthusiast – from skilled gunsmiths to first-time hobbyists. This is a must-have catalog for any 1911 builder or owner."
Customers can obtain a free copy of Brownells 1911 Catalog #11 by visiting the catalog section ( http://goo.gl/Ud2fS8 ) of Brownells.com, or calling 800-741-0015 and requesting one.
About Brownells
Serious About Firearms Since 1939, Brownells is the world's leading source for gun parts and accessories, ammunition, gunsmithing tools, survival gear and archery. With a large selection of both common and hard-to-find items, and an extensive collection of videos, articles, and gun schematics, Brownells is the expert for everything shooting-related. Committed to maintaining our great traditions, Brownells has more, does more and knows more – and guarantees it all, Forever. For more information or to place an order, call 800-741-0015 or visit Brownells.com. Stay up-to-date with Brownells on YouTube, Facebook, Twitter and Instagram.
USA - -(Ammoland.com)- Last week, John Kerry seemed to be auditioning for the role of Dr. Pangloss.
Despite jihadi violence across the Middle East and ISIS terror in Iraq and Syria, Kerry told Congress, we live in "a period of less daily threat to Americans and to people in the world than normally — less deaths, less violent deaths today than through the last century."
Director of National Intelligence James Clapper appeared to undercut Kerry the next day when he testified, "When the final accounting is done, 2014 will have been the most lethal year for global terrorism in the 45 years [since] such data has been complied."
From January through September 2014, said Clapper, there were 13,000 terrorist attacks that killed 31,000 people. Afghanistan and Pakistan accounted for half of these attacks. And the Islamic State ranks first among terrorist organizations.
Yet, is Kerry wrong?
Despite our outrage over the barbarity of ISIS — beheadings of journalists and aid workers by "Jihadi John," and of Christians on a beach — this century does not remotely rival in evil the bloodiest century of them all, the 20th.
From 1914-1918, nine million men died in the Great War. A comparable number of civilians perished.
At war's end came the Russian Revolution and civil war, the Red Terror of Lenin, the genocide of the kulaks, the Holodomor in Ukraine and Stalin's Great Purge of the '30s.
Stalin's butcher's bill alone has been estimated at 30 million.
From World War II, 1939-45, European and Asian theaters together, the dead are estimated at another 50 million.
From 1945-49, in the Chinese civil war between the Communists of Mao Zedong and the Nationalists of Chiang Kai-shek, millions more died. The 1947-48 war in the subcontinent that severed Pakistan from India also consumed millions of Hindu and Muslim lives.
Came then Korea and Vietnam, where the U.S. dead totaled well over 90,000, and the Korean and Vietnamese dead numbered in the millions. Pol Pot's Khmer Rouge produced a million dead Cambodians in their first year in power in 1975.
The Biafran War of secession from Nigeria from 1967 to 1970, the Derg coup in Ethiopia in 1974 and subsequent Marxist rule until 1991, Rwanda in the 1990s, were each responsible for over a million deaths.
World War I gave us poison gas and starvation blockades; World War II provided ethnic cleansing, genocide, saturation bombing of cities and women and children, with the firestorms of Tokyo, Dresden, Hiroshima and Nagasaki the grand finale.
Does not Kerry have a case?
We Americans lost more than 600,000 dead from 1861-1865, and another 600,000 died in World Wars I and II, Korea and Vietnam.
In this century, in Afghanistan and Iraq, the two longest wars in our history, the death toll is 7,000 — a terrible loss, but a tiny fraction of the number of Americans lost in wars during many of our lifetimes.
What Americans seem to lack today is a sense of perspective and what Mark Twain called "the calm confidence of a Christian with four aces."
Jihadi John is a psycho, a sicko, a Charlie Manson who is loving all this publicity. He is not an "existential threat" to the United States.
Nor is Abu Bakr al-Baghdadi, or as he now calls himself, "Caliph Ibrahim," who told his American captors who handed him over to Iraqi authorities in 2009, "I'll see you guys in New York." Not likely, Abu.
This is not to say that America should dismiss the revolutionary forces roiling an Islamic world of dozens of nation states. If the Sunni regimes do not cope with this challenge, the epidemic could engulf them.
But as threats to the United States, ISIS, al-Qaida and Boko Haram are pathetic compared to Hitler's Reich, Tojo's Japan, or the nuclear-armed "evil empire" of the Cold War.
During the height of the Vietnam War in 1968, we were losing 200 dead a week. During World War II, it was 2,000 dead a week.
How many Americans are dying each week at the hands of ISIS?
Make no mistake. These terrorists can bring down an airliner, shoot up malls, blow up buildings and kill a number of us. And they will behead any American who falls into their hands. But they cannot run a country. And they cannot defeat the United States.
Let us put this peril in perspective.
Each year, 33,000 American die in auto accidents and tens of thousands die of the flu. Last week, the Center for Disease Control reported that in 2011 alone, Clostridium difficile, or C. diff, a disease this writer had never heard of, caused 15,000 deaths in the USA.
How many American deaths did ISIS cause?
As the Shiites are already engaged against ISIS, we should inform our Sunni friends — the Turks, Egyptians, Saudis, Gulf Arabs: As you are the most threatened here, you are the first responders to this blaze.
We will have your back, but we will not fight your war for you.
Patrick J. Buchanan is the author of the new book "The Greatest Comeback: How Richard Nixon Rose From Defeat to Create the New Majority."
BELLEVUE, WA – -(Ammoland.com)- The Citizens Committee for the Right to Keep and Bear Arms has sent a blistering letter to B. Todd Jones, director of the Bureau of Alcohol, Tobacco, Firearms and Explosives, opposing the Obama administration's proposed ban on M855 ammunition for modern sport-utility rifles.
CCRKBA Chairman Alan Gottlieb told Jones in the letter that after hearing from thousands of members, he cannot blame them for being "concerned" and "furious" over the proposed Ammo Ban, first made public on Feb. 13 2015. If adopted, the ban would affect perhaps the most popular commercially-available ammunition for modern semi-auto rifles owned by millions of American citizens. A copy of the letter may be read below.
"The ammunition in question, M855 ball for the 5.56mm/.223 Remington modern sport-utility rifle, provides an affordable option for AR-15 owners to practice, compete, hunt varmints and control predators," Gottlieb wrote. "The argument that there is no 'sporting purpose' for this ammunition is at best specious. It is the most popular ammunition for the most popular rifle in America today.

"There does not appear to have ever been a single use of this ammunition in one of the handguns chambered for the .223 Remington to injure or kill a law enforcement officer wearing soft body armor," he added. "This proposed ban on the M855 seems like an answer to a problem that does not exist."
Gottlieb cautioned Jones that CCRKBA members "are seriously concerned that such an administrative maneuver could easily be used again to ban other types of common rifle ammunition, all of which we both know is capable of penetrating Kevlar and similar bullet resistant vests, which were designed to stop handgun bullets." He assured Jones that CCRKBA members "have a long tradition of support for law enforcement."
"However," he concluded, "I must concur with those members that the proposal appears to be a camel's-nose-under-the-tent effort that, if successful, could easily be abused to place even more restrictions on other rifle ammunition in the future."
Civil Rights Group Letter To BATF Chief Blasts Proposed Ammo Ban
With more than 650,000 members and supporters nationwide, the Citizens Committee for the Right to Keep and Bear Arms is one of the nation's premier gun rights organizations. As a non-profit organization, the Citizens Committee is dedicated to preserving firearms freedoms through active lobbying of elected officials and facilitating grass-roots organization of gun rights activists in local communities throughout the United States. The Citizens Committee can be reached by phone at (425) 454-4911, on the Internet at www.ccrkba.org or by email to InformationRequest@ccrkba.org.
By AWR Hawkins
Washington DC - -(Ammoland.com)- USA Today joined ranks with other anti-gun voices, saying women shouldn't be allowed to carry guns on campus for self-defense.
USA Today specifically claimed that "zero-tolerance" polices are a better way to halt sexual assaults. They suggest this is so because allowing women to carry guns actually puts women in greater danger. They also suggest that opening the door to concealed carry holders opens the door to criminals carrying guns on campus.
In other words, criminals are currently leaving their guns at home, waiting for the gun-free policies to change before they bring firearms along for the commission for a crime.
USA Today echoed arguments presented by Salon, claiming that allowing women to carry guns on campus would only increase the danger women face. They cite anti-Second Amendment proponent Alexandra Brodsky who says, "Guns won't stop campus rape violence. In fact, they will put more students at risk."
To back up this claim, USA Today links to an Everytown for Gun Safety claim ( http://tiny.cc/xw9yux ) that the "mere presence" of gun in a situation where a women may be assaulted increases her chances of death by "500 percent." They do not cite any figures to explain the risk of death or injury unarmed women face when an armed assailant kicks in the door to their residence or abducts them in a parking lot.
Instead, they cite the isolated incident of Marissa Alexander firing a warning shot at her abusive, estranged husband and getting a prison sentence for it. Citing Alexander's example is an attempt to show how things didn't end well for an armed woman.
But they do not mention that Alexander's prison sentence was reduced to house arrest. Nor do they note that Florida lawmakers recognized the law against warning shots was flawed, and changed it with the intent of liberating women who might need to stand their ground in the future.
Campus Carry portends a similar liberation for college age women across the country who want to protect themselves from assault.
Follow AWR Hawkins on Twitter: @AWRHawkins.
KOTV, Tulsa, Okla. 02/18/15.
USA --(Ammoland.com)- Somewhere, everyday in the USA, 2100+ people use a gun for self defense, to stop a crime or save the lives of themselves or their family.
"We believe that the American public deserve to understand that on the average, guns save 2,191 lives and are used to thwart crimes every day," says Alan Gottlieb of the Second Amendment Foundation
Most times you won't see these tales on the news as it does not fit the main stream media's story line of "Guns and Gun Owners are Bad".
This is just one of those stories;
An intoxicated man entered the Debi's Filling Station restaurant in Okmulgee, Okla., drew a knife and confronted a customer. Another customer, a Right-to-Carry permit holder, took note of the threatening act, drew a gun and told the knife-wielding criminal "[p]ut your knife away. I have a gun." The aggressor fled the restaurant, but was captured just outside the door.

Following the incident, restaurant employee Dayna Rucker told a local media outlet, "in this situation the good guy had the gun and helped diffuse the situation." (KOTV, Tulsa, Okla. 02/18/15)
About the Guns Save Lives Series:
Every few days AmmoLand Shooting Sports News will be featuring a new report of stories involving self defense with a hand gun. Be sure and share, like and Tweet these posts and help spread the truth that "Guns Save Lives". See more at www.AmmoLand.com ( http://tiny.cc/s6ef2w )
By Michelle Malkin
Los Angeles, CA - -(Ammoland.com)- Political correctness is a pathological disorder.
You can't say "niggardly" or "black holes" or "chink in the armor" without provoking protests or risking your job. You can't invoke the Constitution or call illegal behavior "illegal" without being accused of hatred. And now, you can't goof around at a high school basketball game in silly costumes without the world accusing you of "racial insensitivity."
Last week, thanks to hyperbolic grievance-mongers and irresponsible reporters, the students of Holy Spirit High School in Absecon, N.J., garnered international headlines and Internet infamy. "Shocking moment students at Catholic school dressed as monkeys and a banana and taunted black basketball players … and DIDN'T get punished," the U.K. Daily Mail blared last week. "Students who taunted black players at New Jersey basketball game get warning, no punishment," USA Today decried.
Bossip.com, "the premier destination for African-American pop culture and entertainment," exclaimed: "Really?!? White High School Students Taunt Black Basketball Team in Monkey and Banana Costumes."
No, not really.
If any of these media outlets had bothered breathing into paper bags before making abject fools of themselves, they might have actually committed journalism. Holy Spirit is a tight-knit community with a 50-year tradition of excellence in academics, sports and character education. I know more than a little about the school and its student body because I am a proud alumna of H.S.H.S. and have stayed in touch with many of its dedicated teachers and administrators over the years.
Part of Holy Spirit's half-century legacy includes a storied athletic rivalry with nearby Atlantic City High School. The competition between the Holy Spirit Spartans and the Atlantic City Vikings has always been fierce but friendly. At a basketball game two weeks ago, Holy Spirit students decided to show their team spirit by recreating Arizona State University's famous "Curtain of Distraction" during their rivals' foul shots.
Unlike the pot-stirrers who've turned an innocent prank into an international p.c. incident, Holy Spirit's senior class president Pat Shober was actually in the stands on Feb. 18 2015 during the game. He donned a green ballerina tutu for the foul shot skits. Other students scrounged up a bumblebee suit, monkey pajamas, costumes for Dorothy from the "Wizard of Oz," a jack-o'-lantern and a banana.
"The fan section was louder than it had been all season long, and the fans, of both sides I may add, were thoroughly amused and actually complimented many of us on our actions numerous times both at the game itself and throughout the time since then," Shober recounted in an open letter to the public. "Racism was not brought up once by a student, player or spectator that night. We intended no racist connotations during our performances that night."
The Spartans had used the costumes at previous games without controversy. Ray Ellis, a black Holy Spirit alumnus and former football player, had dressed up as the banana at a sports match three years ago. The 19-year-old athlete tweeted a photo of himself in costume after the manufactured brouhaha, which he rightly called "ridiculous." Ellis explained to the Philadelphia Inquirer's Phil Anastasia — one of the few responsible journalists who covered the story — that "we get creative at games, we dress up in costumes, we show a lot of enthusiasm. … Other people see what they want to see and try to make it into something it's not."
Indeed, race didn't enter the picture until two error-riddled reports from the Press of Atlantic City appeared a week after the game occurred and snowballed into global tabloid hysteria. The paper extensively quoted an Atlantic City high school coach who wasn't even there. The paper failed to mention that the vast majority of the Holy Spirit basketball team is black. The paper neglected to describe the full array of costumes involved. Nor did it quote any of the kids involved in the skits.
Anastasia, who was in attendance, noted: "I was there that night in Absecon. There were black kids along with white kids in that student section, yelling at Atlantic City's players and cheering for Holy Spirit players. And for the record, there were times during that game when Atlantic City had more white players on the floor (two) than Holy Spirit."

Stephen Brown, a Holy Spirit alumnus who graduated last year and has many friends at the school, told me: "It is a classic example of how the race card is so unfairly pulled, and in this case is being used to vilify innocent high school students." Showing more maturity than the Chicken Little instigators in newsrooms around the world who defamed his fellow Spartans, Brown reflected: "This is not only a perfect example of poor journalism, but an example of how members of the biased media like to stir the racial pot."
What we have here is a textbook case of media-manufactured racism. Knee-jerk race-baiters who see bigotry at every turn are an embarrassment to the profession. Shame on the smear merchants and their enablers who go bananas over every last imagined slight and recklessly monkey around with students' lives and reputations.
The cage-rattlers don't care about truth, honor or integrity. Lesson learned: It's a social justice jungle out there, kids. Be prepared.
About: Michelle Malkin
Michelle Malkin is the author of "Culture of Corruption: Obama and his Team of Tax Cheats, Crooks and Cronies" & "Unhinged: Exposing Liberals Gone Wild". Her e-mail address is malknblog@gmail.com.
By AWR Hawkins
Washington DC - -(Ammoland.com)-  On Friday, a female clerk at a Lexington, Kentucky tobacco shop took a firearm from a male robbery suspect, shot him, then beat him until he ran away.
According to WTVQ, Zara Adil was working at Discount Tobacco Zone when two men entered the shop, one of whom pulled a gun. The armed man demanded Adil empty the cash register, which she had begun doing when she "noticed the man put down the gun."
She grabbed the gun and pointed it back at the man, telling the other suspect to run away or risk getting shot, so he fled. As Adil watched him go, the remaining suspect allegedly attacked her, so she shot him in the shoulder.
Adil then beat the man, who finally fled without getting one cent for all his trouble.
Lexington police see similarities between this robbery attempt and "15 others since January" and have issued a warrant for Darrell Thomas, Jr.
Adil said she fought back because she was "standing up for what's right."
Follow AWR Hawkins on Twitter: @AWRHawkins.
 FAIRFAX, VA – The NRA's newest digital channel, NRAFreestyle.TV, announces the launch of its latest video series, I Am Forever, sponsored by FN America and FNH USA brand products. Visit NRAFreestyle.TV now to see the premiere of this exciting new video series.
 I Am Forever offers a unique training experience aimed at breaking shooter athletes out of their range routines in order to improve. To do this, exercises and drills will focus not just on shooting, but also on a variety of other sports, such as yoga, golf, swimming, mixed martial arts, and more. Coaches Isaiah Truyman and John Wayne Walding are out to prove that by working on your basic athletic skills, you can advance your performance in any sport—even athletic shooting.
Athletic trainer and founder of EZIA Performance, Truyman has helped professional and amateur athletes—including surfers, boxers, golfers and tennis players—by using a similar training plan. But he's never trained with shooter athletes. That's where Walding comes in. The former Green Beret knows his way around a gun, and will supplement Truyman's training with shooting exercises. Both coaches will work together to train high school senior Reagan Tyler—an 18-year-old volleyball star from Oklahoma with the willingness to learn, but a long way to go.
FN guns featured in the series include: FN SPR™ A5M XP, FNX™-45, FNS™-9 and FNS™-40. Viewers can shop Reagan's training apparel at www.511tactical.com/nra-women.
About NRA: Established in 1871, the National Rifle Association is America's oldest civil rights and sportsmen's group. Nearly five million members strong, NRA continues to uphold the Second Amendment and remains the nation's leader in firearm education and training for law-abiding gun owners, law enforcement and the armed services. Visit: www.nra.org Be sure to follow the NRA on Facebook at www.facebook.com/NationalRifleAssociation and on Twitter @NRA.
About FN America: FN America, LLC is a wholly-owned subsidiary of FN Herstal, S.A., and is a leader in the development and manufacturing of high quality, reliable firearms for military, law enforcement and commercial customers in the U.S. Headquartered in McLean, VA, with manufacturing operations in Columbia, SC, FN America is passionately committed to providing its customers with a portfolio of products, training and support services under the FNH USA brand name that enhance their performance and safeguard their lives. For more information, visit www.fnhusa.com.
NEWTOWN, Conn --(Ammoland.com)- Kenneth Noel Waite Jr. died Feb. 27 after a long battle with Parkinson's and cancer, according to his obituary.
A Connecticut native, Ken's career spanned more than 40 years with Remington Arms, where he worked his way up to become the Northeast Regional Manager.
When he retired, Ken founded Stonewood LLC, which represented Remington and other sporting goods company products.
A proud veteran, Ken was an outdoorsman, an avid collector of sporting firearms and memorabilia and served on the NSSF Board of Governors.
About NSSF
The National Shooting Sports Foundation is the trade association for the firearms industry. Its mission is to promote, protect and preserve hunting and the shooting sports. Formed in 1961, NSSF has a membership of more than 6,000 manufacturers, distributors, firearms retailers, shooting ranges, sportsmen's organizations and publishers.
For more information, log on to www.nssf.org.
By AWR Hawkins
Washington DC - -(Ammoland.com)- With support for Constitutional Carry gaining momentum in a manner reminiscent of the way concealed carry gained momentum before sweeping the country in the 1990s, The Washington Post (WaPo) has resorted to trying to stir up enough panic to get numerous state legislatures to abandon the idea.
Constitutional Carry is open carry and concealed carry without a permit. It exists in Alaska, Arizona, Montana, Vermont, and Wyoming.
It is currently working its way through state legislatures in Colorado, Idaho, Kansas, Maine, New Hampshire, and West Virginia. Open carry without a permit is legal in these states, and legislators in each argue that allowing open carry with no permit yet requiring a permit for concealed carry is really a way of punishing —or criminalizing— citizens who carry concealed.
Some of the legislators have been even more pointed in their arguments for Constitutional Carry, making it clear that the 2nd Amendment itself is all the justification a citizen should need for carrying a gun openly or concealed.
Previously reported, West Virginia Senator Robert Kames (R-Upshur) pointed out that bearing arms "is a United States constitutional right." He said, "The 2nd Amendment recognizes this inherent right."
So WaPo is left with no recourse except to warn of the dangers of allowing Americans to exercise this inherent right—the danger of allowing them to bear the arms they keep without infringement. To that end, WaPo warns that Constitutional Carry means Americans will carry guns without checking in with the government first, without going through gun classes, safety courses, or background checks.
In saying these things, WaPo misses the fact that the ultimate purpose of many concealed carry permit classes around the country isn't to make the citizen a better shot or more adept at drawing and shooting a gun to begin with.
Rather, the purpose is to lecture them on state laws regarding lethal use of force, thereby absolving the state of liability in a licensing situation.
But Constitutional Carry is another way to absolve the state of liability —it is perhaps the best way— for it makes responsibility and liability a personal matter once again.
At the same time, it gets the government out of the process so residents in Constitutional Carry states can enjoy freedom in all its fullness once more.
Follow AWR Hawkins on Twitter @AWRHawkins.
On NRA's Cam & Co.
Allentown, PA – -(Ammoland.com)- In An Exclusive NRA News Cam & Co Interview, John Annoni the founder of Camp Compass and 2 Million Bullets shared his perspective on urban minority youth and guns.
Camp Compass is a program, founded in 1994, that brings urban students over time to the outdoors, hunting, shooting and fishing. John and his son Landon respond to reported comments made by gun control advocate Michael Bloomberg while speaking at the Aspen Institute. Bloomberg is reported to have said that cities must take away firearms from all young minority males, in order to reduce violent crime.
As a young minority male, Landon provides his perspective on firearms safety, and talks about hunting and shooting. Originally aired on NRA News Cam & Co 02/10/15.
The video which can be seen here, http://tiny.cc/ywqxux,  brings a trueness to the gun debate and a perspective that the pro gun side has been in need of.
It becomes clear that moving towards solving anti firearm issues starts with passionate people who not only talk the talk but walk the walk.
ABOUT JOHN F. ANNONI:
John Annoni is the CEO and Founder of the Camp Compass Academy and a 6th grade urban middle school teacher. He received an honor from Outdoor Life Magazine heralding him as one of the top twenty-five men and women who are changing the face of hunting and fishing. John also founded 2 Million Bullets( a national orange ribbon campaign for the shooting sports) and has been featured on the NBC Nightly News segment MAKING A DIFFERENCE .
For more information on Camp Compass visit www.campcompass.org.
Teaxs - -(Ammoland.com)- Companies like to pile on Defense Distributed, like we don't all know how this story ends.
The most recent is a company called Mark Forged in Cambridge that sells a carbon fiber 3D printer called the Mark One.
I ordered and paid for this printer a year ago and waited that long for them to decide they didn't want to sell it to me after all.
Before the weekend they returned the money and told me due to "business risks" they wouldn't sell it to me. Now Wired has the story and the company has invented some new terms of use to preclude DD from using the device at all.
Yet another of our bad faith dealings with White Liberals for NATO…
But in all seriousness, I'm going to get this printer. And, as I told them, I'm going to print a gun with it.
These hurried attempts by almost everyone in polite society to impede my company in its purpose are efforts of last resort. Last hope attempts at diverting this world from its final conditions.
I will pay $15,000 to the first person who can get me the Mark One printer.
Email me at crw(at)defdist.org if you can help.
Cody Wilson
About Defense Distributed
The specific purposes for which this corporation is organized are: To defend the civil liberty of popular access to arms as guaranteed by the United States Constitution and affirmed by the United States Supreme Court, through facilitating global access to, and the collaborative production of, information and knowledge related to the 3D printing of arms; and to publish and distribute, at no cost to the public, such information and knowledge in promotion of the public interest. Visit; www.defensedistributed.com
USA --(Ammoland.com)- Redneck Hunting Blinds, in conjunction with GrowingDeerTV, is giving away an all expenses paid turkey hunt at Redneck Farms in Southern Missouri.
The two-day hunt will take place April 29 and 30. The lucky winner will get to hunt with the famed Wildlife Biologist, Dr. Grant Woods of GrowingDeerTV.
The hunt will be filmed for the show and the winner can chat with Dr. Woods about turkeys, deer management and all things wildlife.
The winner of the contest will get to hunt un-pressured gobblers on hundreds of acres of turkey rich property and hunt from Redneck Blinds.
"This will be a very special hunt," said Danny Little from Redneck Blinds. "Our farm is covered up in turkeys, so the winner is sure to have a blast chasing turkeys here in Missouri."
The lucky winner will win a free hunt and a pile of neat gear from Redneck Hunting Blinds.
Those interested in winning a free turkey hunt and some cool new products can register by going to http://redneckblinds.com/turkey-hunt or http://www.growingdeer.tv/view/missouri-turkey-hunt-with-dr-grant-woods/.
HUNTERS CAN DOUBLE THEIR CHANCES OF WINNING BY REGISTERING AT BOTH PLACES!!!
Good Luck and we look forward to hunting with you this spring!!!
Learn more about Redneck Blinds by visiting www.redneckblinds.com
USA - -(Ammoland.com)- Mark Paulsen, Founder of Wilderness Athlete, was the first person to bring outdoor performance nutrition to the hunting and outdoor market over ten years ago.
Today, Paulsen and the Wilderness Athlete Science, Research and Formulations Board, continue to be The Authority on Outdoor Performance Nutrition.
Wilderness Athlete, the category creator in outdoor performance nutrition, has brought numerous powders to the outdoor market in recent years and although many companies offer premixed products that are ready to drink, Wilderness Athlete doesn't offer premixed solutions.
Why? Because these products quickly lose their potency. Mark Paulsen explains why there is "Power in the Powder."
"Anytime a nutrient, whether it's an herb, mineral, vitamin, or amino acid, is placed in solution, it immediately begins to degrade and lose its potency. Actually, from the day that any raw material is manufactured, it begins to breakdown and the process of oxidation begins."

"For example, Vitamin C is a powerful antioxidant and at Wilderness Athlete ( tiny.cc/0zoxux ) , we put 1000 milligrams of Vitamin C in every serving of our Hydrate and Recover product. That same Vitamin C placed in solution/water and placed on a shelf for an extended period of time would deteriorate quickly and its value would be greatly compromised," Paulsen explained.

"By placing any raw material in water or any solution, the process of breaking down is accelerated. It's noteworthy that any raw material or formulation once in solution has a very finite life, while our Wilderness Athlete powders retain their potency for up to four years. It would be even more problematic for Wilderness Athlete to premix our products in solution, over the already stated case, for the simple reason that with multiple compounds comes even faster breakdown. By simply reading our labels, you can see that we use rather complex formulations with multiple compounds. It is these multiple compounds that give Wilderness Athlete products such a pronounced effect. It is also important to note that at Wilderness Athlete, we use many natural flavors to make our products healthy and palatable. These natural flavors would also lose their potency and turn bland if they were to be premixed and marketed in solution. So whether you are mixing a Wilderness Athlete product on your kitchen counter or in the middle of the wilderness, add your own water and enjoy all the benefits they bring to your health and performance. The power, potency and palatability of Wilderness Athlete products lies in the Powder." Mark Paulsen, Founder of Wilderness Athlete added.
Shop for Wilderness Athlete products online at Amazon: http://tiny.cc/0zoxux
The Wilderness Athlete Science, Research, and Formulations Board formulates a wide array of nutritional products for those who enjoy the outdoor lifestyle including Energy & Focus, Hydrate & Recover, Protein Plus and Meal Replacement and Recover Shakes. To learn more about the amazing product line Wilderness Athlete offers, visit www.wildernessathlete.com.
A Fun NEW .380 Carbine.
Dayton, OH --(Ammoland.com)- MKS Supply, LLC announces the NEW .380 ACP caliber Hi-Point carbine. www.mkssupply.com
Finally, a fun, tough .380 carbine that almost anyone can afford! The Hi-Point Carbine is the same size as its larger-bore brothers in 9mm, .40S&W, and .45 ACP and it's hard shooting, accurate and almost recoil-free.
Its 16.5-inch barrel will launch .380 bullets as hard and fast as a full-power 9mm handgun, maybe even harder (when you add several inches of barrel over that of a handgun, you gain 100-150 feet per second higher velocity and possibly more with hot or +P loads). With the added velocity performance the .380's effective range (the distance a shooter can expect to get reliable on-target hits) is extended to a couple hundred yards.
For owners of Hi-Point .380 caliber pistols, this is a true made-in-heaven deal; both guns use the same ten-round magazines! Don't have a Hi-Point .380? Buy both the carbine and the pistol for less than half the price of one too-pretty-to-use semi-auto pistol.
The Hi-Point .380 Carbine is not a fancy $1,200+ foreign carbine, but it is more robust than those pretty guns and will launch equivalent-power bullets at the same velocity — (gosh all gee willikers "amazing!").
The Hi-Point .380 Carbine is a tough gun so owners don't have to protect it to keep it beautiful because beautiful it ain't, but reliable, tough and useable anywhere, it is.
At its low suggested retail price of $297.00, buyers will have plenty of money left over to buy a bunch of ammo.
Hi-Point offers several low-cost options for the .380 Carbine, including a vertical folding hand grip, optical sight, laser sight, and red-dot sight.
Specifications:
· Weight: 7 pounds
· Overall length: 31.5 inches
· Barrel length: 16.5 inches
· Magazine capacity: 10 rounds
· MSRP: $297.00
MKS Supply, LLC
8611-A North Dixie Drive
Dayton, OH, 45414
937-454-0363
www.mkssupply.com
By AWR Hawkins
Washington DC - -(Ammoland.com)- On March 2nd 2015 White House press secretary Josh Earnest said the pending AR-15 ammo ban is a "common sense" way to save cops' lives.
Earnest also claimed the ban on M855 ammo is something that can be done while "protecting the Second Amendment rights of law-abiding Americans."
According to The Washington Times, Earnest said the Obama administration has been looking for "ways to protect our brave men and women in law enforcement, and believe that this process is valuable for that reason alone."
But House Judiciary Committee chairman Robert Goodlatte (R-VA-6th Dist.) is not buying the argument. Breitbart News previously reported that Goodlatte sent a letter to the ATF that stated:
Millions upon millions of M855 rounds have been sold and used in the U.S., yet the ATF has not even alleged, much less offered evidence, that even one such round has been fired from a handgun at a police officer.
Goodlatte's point is crucial because Obama's ATF is effectively working backward to justify banning M855 ammo. They are taking an "armor piercing" ammo ban for handguns and applying it to rifles because of one rifle round–the M855 for the AR-15–which can also be fired out of AR-15 pistol variants.
Unless someone can prove Goodlatte wrong, the AR-15 ammo ban remains a terrible solution to a non-existent problem.
Follow AWR Hawkins on Twitter @AWRHawkins.
NEWTOWN, Conn --(Ammoland.com)- Marval Hornady of Grand Island, Nebraska, died Feb. 20 at age 102. With her husband, Joyce, Marval co-founded Hornady Ammunition in 1949.
After raising a family, she was encouraged by her husband to become more involved at the company and did so in the early 1970s.
When Joyce was killed in a plane crash in 1981, she took over as chairman of the board and secretary of the corporation, and with her son, Steve, and daughter, Margaret, helped the company not only survive but thrive to become the success story it is today.
Marval had a zeal for community volunteer work and philanthropy, serving on the boards of many local and area non-profit groups and receiving many awards for her service. "I share because I have enough to share" was her clarion call.
Read her obituary. http://tiny.cc/qljxux
About NSSFThe National Shooting Sports Foundation is the trade association for the firearms industry. Its mission is to promote, protect and preserve hunting and the shooting sports. Formed in 1961, NSSF has a membership of more than 6,000 manufacturers, distributors, firearms retailers, shooting ranges, sportsmen's organizations and publishers. For more information, log on to www.nssf.org.
NEWTOWN, Conn --(Ammoland.com)- The Conservative Political Action Conference (CPAC), held last week in Washington, D.C., is the go-to gathering for those interested in conservative causes.
The presence there of the Humane Society of the United States (HSUS) with its anti-hunting agenda made little sense — except that HSUS works to hide its true political nature under the guise of being a funder of animal shelters.
In fact, this group sends next to nothing to local shelters. So when the watchdog group Humane Watch pointed this out to CPAC management, supported by NSSF, action was taken and HSUS was shown the door.
NSSF frequently faces off against HSUS on issues from traditional ammunition bans to bear hunting practices.
Separately, we are quite happy to have provided sponsorship support to CPAC.
About NSSF The National Shooting Sports Foundation is the trade association for the firearms industry. Its mission is to promote, protect and preserve hunting and the shooting sports. Formed in 1961, NSSF has a membership of more than 6,000 manufacturers, distributors, firearms retailers, shooting ranges, sportsmen's organizations and publishers. For more information, log on to www.nssf.org.
NEWTOWN, Conn --(Ammoland.com)- Reaction is strong and growing to the Bureau of Alcohol, Tobacco, Firearms and Explosives' (ATF) maneuvering on behalf of the Obama administration to ban widely held 5.56 M855 "Green Tip" ball ammunition.
The issue has caught political fire on Capitol Hill and is drawing the attention of the mainstream news media. This has occurred as tens of thousands of Americans emailed, faxed and called, both ATF and their Members of Congress to halt this unwarranted action. Here is a summary of the activity:
U.S. SENATE, HOUSE LETTERS SEEK ANSWERS . . . U.S. Senators late last week began signing on to a strongly worded letter to ATF Director Jones questioning the bureau's authority to end the exemption for 5.56 M855 ammunition under the sporting purposes test that has been in effect since 1986. The Senate letter, originated by Charles Grassley (R-Iowa), parallels an effort in the U.S. House of Representatives now signed by more than 200 members. The House letter calls into question the reasoning, manner and fast-track timing behind the bureau's recent announcement.
NSSF SEEKS 60-DAY COMMENT EXTENSION . . . NSSF Senior Vice President and General Counsel Larry Keane has written ATF Director B. Todd Jones requesting that the agency's announced deadline be extended an additional 60 days for comments on the bureau's proposal. "Given the breadth of the impact this new framework will have on the industry and the number of calibers in question, we believe the 30 days allotted by the ATF is not sufficient for companies in the industry and the general public to provide meaningful comments and suggestions," he wrote. The Sporting Arms and Ammunition Manufacturers' Institute also requested an extension.
MAINSTREAM MEDIA ATTENTION PICKS UP . . . While the ATF action was covered heavily for several days by the industry trade and gun websites, as well as generating substantial traffic in social media, the mainstream news media awakened to the issue only late last week. NSSF's Larry Keane explains the industry's perspective in

Friday's

New York Times and appeared on the Fox News Channel's "The Kelly File" that night. (See Video Below)
KEEP THOSE EMAILS COMING . . . Industry employees, target shooters and gun owners should contact their Member of Congress and the ATF to oppose this unnecessary ban, which is truly a solution in search of a problem and raises serious questions about executive agency attitude and overreach. Stopped in their attempts to pass more gun control laws on Capitol Hill, this action appears to be the Obama administration's attempt to pursue gun control by other means. See the NSSF Action Alert and email ATF today. You should also email or Tweet your Member of Congress.
About NSSF The National Shooting Sports Foundation is the trade association for the firearms industry. Its mission is to promote, protect and preserve hunting and the shooting sports. Formed in 1961, NSSF has a membership of more than 6,000 manufacturers, distributors, firearms retailers, shooting ranges, sportsmen's organizations and publishers. For more information, log on to www.nssf.org.
---