Muzzy's X-Series SG-X 125-Grain Small-Game Head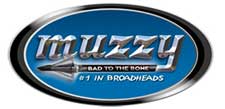 Muzzy Archery – -(AmmoLand.com)-You asked for it, and now you got it.  The SG-X 125-grain small-game head packs the big performance you demand into a small but deadly package.
Especially designed with the small-game hunter in mind, the SG-X features a replaceable TroCar tip, spring-loaded arms and a stainless-steel body for maximum functionality with lethal results.
Just like its 100-grain predecessor, the consistently-accurate SG-X 125-grain gives hunters the confidence they need to get the job done even when the weather and critters are unpredictable.
Just like other Muzzy broadheads, the SG-X tips  and pronged 4-leg assembly are replaceable and feature the Muzzy quality and reliability on which you depend.
Don't wait. Order yours now. For more information on the SG-X and other Muzzy products, call 1-866-387-9307, or check out www.muzzy.com.
Brought to you by – AMMO LAND.COM – The Free Press Release Service for the Shooting Industry! www.AmmoLand.com .
Submit Gun, Ammo and Shooting Related News at Ammo Land.com .