Special Book Offer from Gun-Tests.com!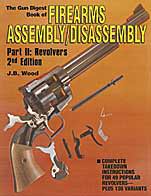 Gun-Tests.com – -(AmmoLand.com)- Has a special offer – purchase Gun Digest Book of Firearms Assembly/Disassembly Part II: Revolvers today for only $24.95. You'll save $3 off the regular retail price! This book shows you how to field-strip, take down, and reassemble hundreds of revolvers. Extra-large photos and clearly-written text guide you through each step of the process! Just click here to order your copy today!
About:
GUN TESTS separates the good from the bad. You'll learn which guns are most reliable and accurate…which are the best-built and which are the best buys. You'll know how a gun you may be thinking of buying holds up after hundreds, even thousands of rounds. And you'll know how it stacks up against similar models in terms of performance and price. You'll save more money and have more fun shooting then ever before.