U.S. Sportsmens Alliance On Target: Threatening Dog Bills Stopped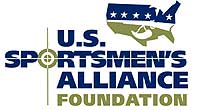 USSA Secures a Pair of Victories in Ohio (Click Here For More)
Two Bills Harming Sporting Dog Breeders Stopped As 2008 drew to a close, the USSA added to its victories with two wins in Ohio.   Two bills that represented threats to sporting dog breeders were stopped cold due to an intense lobbying and grassroots effort by the USSA.
Reno to Welcome "The Sheep Show" from 2010-2012 (Click Here For More)
The Wild Sheep Foundation (WSF) has announced that its annual convention will be hitting Reno, Nevada three years in a row beginning in 2010.   Known by mountain and sheep hunting supporters around the world as "The Sheep Show," the convention is one of the largest fundraising events each year dedicated to raising conservation dollars for wild sheep.
Oprah Winfrey: PETA Person of the Year (Click Here For More)
On December 22, 2008 PETA named talk show megastar Oprah Winfrey as its "Person of the Year." According to Ingrid E. Newkirk, PETA's founder and President, Ms. Winfrey has offered her "powerful voice to defend those without one."
About:
The U.S. Sportsmen's Alliance (USSA) and the U.S. Sportsmen's Alliance Foundation (USSAF) work nationwide, representing over 1.5 million sportsmen through member clubs and individual constituents.   The organizations provide legislative, legal defense and public education services to defend and advance sportsmen's rights in Washington, D.C. and in all 50 states.
Contact Us:
U.S. Sportsmen's Alliance, 801 Kingsmill Parkway, Columbus, OH 43229
Ph: (614) 888-4868   Fax: (614) 888-0326