About Ammunuition Encoding – From the ISRA Frequently Asked Questions
Several ISRA members have written to the ISRA hotline in the past week asking about ammunition accountability bills.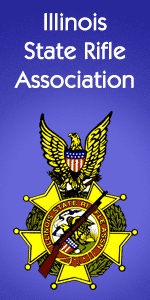 Ammunition Encoding
Ammunition Accountability is a term invented by a company called Ammunition Coding System that holds a patent for laser engraving a serial number on the base of the bullet, and another on the inside of the case. Of course no one would want to buy or produce such ammunition, so Ammunition Coding System hired lobbyists to try to get states to pass laws to require the use of their "technology". Of course they're not doing it out of the kindness of their hearts: Ammunition Coding expects to get paid a licensing fee for every round of ammunition produced.
To date, no such bills have been passed in any state, but last year there was legislation submitted in 18 states, including Illinois. Ammunition Coding System's lobbyists had contacted every legislator in the Illinois General Assembly.
In the now past 95th General Assembly, there were four bills introduced in the Illinois House, and one [through amending a bill] in the Senate. All of these bills would have required the formation of a state-wide ammunition registry. Some of the bills would apply a monetary fine paid to the state for each round of ammo of $0.05. (Don't forget, the base price of the ammo will go up as well, as Ammo Coding System will get their cut from the manufacturer.) Some of the bills contained lists of firearms for which the ammunition must be encoded, others covered all firearms ammunition. And forget holding onto any old ammunition for that family heirloom, these bills would create penalties for ammunition that wasn't encoded.
Is this technology safe, and does it even work? Would this technology create obsolete relics out of modern firearms for which this encoding scheme does not work? Ammunition Coding System's own data only shows a small sample of centerfire handgun calibers gone through any testing.
The criminals would always have an ample supply of ammunition that cannot be traced to them if this kind of legislation passes somewhere; there would be a thriving market in stolen ammunition. This would cause crime investigations to point squarely at the theft victims, not the criminals. It doesn't take long to realize that legitimate usage of ammunition is jeopardized with encoded ammunition. Used cartridge cases cannot be disposed of without risk, and every empty case at a public range would need to be accounted for by each individual shooter, lest the criminal element obtain used cases and scatter them at crime scenes. This would have a chilling effect on recreational shooting. Expect casting and reloading to later become criminalized activities if ammunition encoding were to pass into law.
Note that all bills in the 95th General Assembly that did not become law are now dead ("Session Sine Die") as of January 13, 2009, and any further movement would be through the introduction of new legislative bills in the 96th General Assembly.
Ammunition Encoding vs. Microstamping
Also in the news has been the term "Microstamping". This is a patented scheme where the cartridge cases are marked during firing with identifying info from the firearm. This involves engraving the tip of the firing pin and the breech face with the serial number of the firearm. Unlike "ammunition encoding", microstamping does not impact ammunition manufacturing, sales and possession. This technology was passed into law in California; AB 1471 was signed by Governor Schwarzenegger on October 13, 2007. Effective in 2010, this will make unlawful for sale any new models of semi-automatic firearms in California that do not incorporate microstamping in two places on the cartridge case. Opponents of this scheme predict that the markings will prove unreadable due to normal wear and tear of the firearm. One likely effect of this legislation is that new models of popular firearms simply will not be available to law-abiding citizens in California.
The police in California apparently will be unaffected. Like other California laws which define their so-called "unsafe firearms", AB 1471 does not apply to any firearms used or purchased by any law enforcement agency. Any civilians unfortunate enough to own firearms that microstamped the cases would need to beware of someone else in possession of their used brass, again, in case they were dropped at a crime scene.
Looking Forward
This new legislative session will bring a fresh batch of misguided bills introduced in Illinois that would infringe on the rights of law-abiding citizens. Unfortunately, it happens every year. The ISRA lobbyists will remain vigilant in 2009 against reappearance of this type of legislation in Illinois. Your support is important and really needed.
What can you do to beat anti-gun legislation in Illinois?
Make sure that you're an ISRA member. Get more information about ISRA membership at isra.org/join/.
Stay informed: Make sure that you're signed up to receive ISRA email alerts by enrolling at isra.org/email_alerts/. Be ready to contact your Illinois Representatives and Senators on important legislation.
You can directly support ISRA lobbying activities in Springfield by making a legislative donation: isra.org/legislation/donation/.
Last, and certainly not least, schedule a vacation day for March 11, 2009 and come to Springfield for IGOLD – Illinois Gun Owner Lobby Day. This is your opportunity to stand in solidarity with your fellow gun owners, and to individually lobby your legislators. Learn more at igold.isra.org.