Charter Arms New Rimless Revolver Missing From SHOT Show!

Charter Arms, Dayton, OH – -(AmmoLand.com)- So, where was the new Charter Arms prototype revolver that is engineered to chamber rimless semi-auto. rounds (9mm, .40, .45ACP) without the need of half-moon and moon clips?
Due to our pushing to get the patent applied for and all of that paperwork submitted and the various legal tap dancing involved in having real guns ready for release at SHOT we were rushed.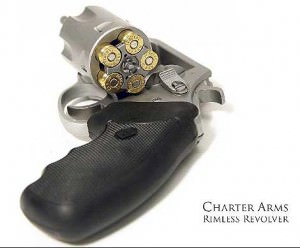 While unpacking at the SHOT Show we got a call from the patent attorney saying that there were some additional things we needed to "clarify" and "tie down" before we should let anyone in the public domain see the actual gun and its full operational details due to the revolutionary concept and operation.  Obviously, this information coming to us during our SHOT Show set up was not received with happy faces and a marching band on our part, but that's the reality of applying for patent protection.
When you pay patent attorneys big bucks to do this type of highly-specialized and technical legal work you are also paying for their legal advice, and when they say "This is something we should not take a chance on" you should do what they suggest.
Therefore, the new revolver was not shown-to anyone from any organization or any media source.  In fact we did not even bother to open the gun case it was packed in.
We hope you understand.  Probably the next opportunity to get it in the hands of everyone will be the NRA Convention in May.  However, we will continue to work the legalistic patent process and plan (hope) to have the .40 ready for media test and evaluation in April followed very soon afterwards with production guns.
We are behind our planned production schedule by about 2 to 3-months (welcome to the fun-filled world of patents and production).