Holder Nomination Goes To The Senate Floor
Time To Hit Your Senators One Last Time And "chew" on those squishy Senators who seem too willing to compromise with Obama.
"I have many serious questions about Mr. Holder's nomination [and] at the top of the list are his anti-2nd amendment right positions." — U.S. Sen. David Vitter (R-LA)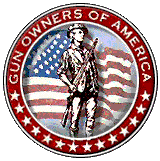 Washington, DC – -(AmmoLand.com)- It was a disappointing result, to be sure.  The Senate Judiciary Committee passed the nomination of Eric Holder yesterday by a 17-2 vote.
Only Senators Tom Coburn (R-OK) and John Cornyn (R-TX) voted against the anti-gun nominee for Attorney General.
One of the things that gravely hurt us in committee was Senator Orrin Hatch's support for Holder.  Even though Hatch holds a lukewarm "C" rating with GOA, he is generally viewed as "pro-gun" on the Hill.  His support for Holder certainly pulled a lot of Senators with him from his side of the aisle.
Thankfully, there are some Senators who are lining up against Holder:
Wyoming Senator John Barrasso (R-WY): "Given Holder's career of attacks on the Second Amendment, his nomination continues to be of great concern to me…. Our nation's highest law enforcement officer must be committed to protecting and defending our individual rights to keep and bear arms. I intend to vote no on the nomination of Eric Holder."
Senator David Vitter (R-LA): "[Holder has] clearly advocated near universal licensing and registration, and he joined and filed an amicus brief in the District of Columbia v. Heller U.S. Supreme Court case arguing that the 2nd amendment was NOT an individual right. That's deeply disturbing."
Unfortunately, there are very few Senators right now who are willing to stand up to Obama's anti-gun nomination.
Another conservative firebrand who opposes the Holder nomination is Senator James DeMint (R-SC).
In addition to Vitter and Barrasso, DeMint is one of the few voices crying out in the wilderness of a "country club" Senate.
"Club friendships [have become] more important," DeMint says, than "where we're going as a country."
Sen. DeMint is simply standing firm on conservative, constitutional principles.  Politico.com noted on Tuesday that DeMint is "less willing to compromise with Democrats than many in his party."
Translation: A lot of other Republicans would rather compromise than stand up to Obama, and that spells bad news for our gun rights.
So what can we do?
The Politico article notes an important lesson that DeMint has learned over the years.  He has tried pushing good policy, being persuasive and being nice.  He's tried it all, he says.  But finally, he realized that lawmakers in both parties "only respond to pain."
That's the key… dishing out political pain! And that's why your grassroots involvement is so critical.  It is imperative that we keep banging on the Senate.  Pressure from gun owners has already helped to slow down the momentum to confirm Eric Holder.  But if confirmed, he will be in a position where he will be able to use the force of government to discourage or outlaw gun ownership in America.
ACTION: Please contact your two Senators, even if you have done so already, and strongly urge them to vote AGAINST Eric Holder for Attorney General.  You can use the Gun Owners Legislative Action Center at http://www.gunowners.org/activism.htm to send your Senators a pre-written e-mail message.
NOTE: The pre-written letter will differ according to whether your Senator is a Republican or Democrat.
****************************
What's Your Current GOA Status?
Obviously, we now face years of invigorated attacks on our gun rights. Shutting down gun shows, prohibitions on specific calibers, another semi-auto ban, and the anti-gun extremists' Holy Grail of mandatory federal licensing and registration of all gun owners — these are just some of the horrors that we already know we'll have to defeat head-on.
It can't be done without every single voice being counted. That's why we are asking you to consider making the commitment of becoming a Gun Owners of America Life Member. By doing so, you put the politicians on notice that neither you nor GOA is going away — that no matter who's in the White House, there is always going to be a solid wall of resistance.
Now is a perfect time to come a Life Member. In addition to providing GOA an infusion of much-needed funds, you can take advantage of a free firearms inventory software promotion.
And if you aren't a GOA member at all, isn't it time you became one? Or maybe you are a current member and can't commit to Life at this time, but could spare another small additional donation. In those instances, the free software also applies… because GOA is doing all it can at this time to line up the troops for the battles that surely must be fought.
Please go to http://www.gunowners.org/ordercs.htm to upgrade your participation in GOA.