Mule Deer Foundation Elects New Chairman of the Board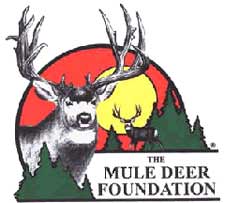 SALT LAKE CITY, Utah – Farley Hicks of Elko, Nevada, was recently elected the Mule Deer Foundation's (MDF) Chairman of the Board at their December meeting in Salt Lake City, Utah.
Hicks was first elected to the Board in 2007. He has been involved with MDF since the 1990's as a committee member with the Great Basin Chapter in Elko and later served as banquet co-chair and chapter chairman. Hicks was elected as Nevada's first State Volunteer Chair and also filled in as acting Regional Field Director for Nevada.
Farley and his wife Linda moved to Nevada in 1988 where he expanded his career in the mining industry. Employed by Barrick Gold Mining, Hicks commented, "I am very fortunate to work for an environmentally friendly and responsible company that strongly supports habitat conservation."
Regarding his work with MDF, Hicks said, "I can now say I have held every volunteer position in the Mule Deer Foundation, and the rewards have been life changing. I was honored in 2007 to become a member of the MDF Board, and after just one short year they have now nominated and elected me as their Chairman. I am extremely grateful for this opportunity. I look forward to working with the Board and the MDF staff to fulfill the mission of the Mule Deer Foundation."
MDF President/CEO Miles Moretti said, "Farley is one of the most passionate and dedicated individuals I have met. Farley gets things done! I look forward to working with him as Board Chairman, and I am excited with Farley's vision for MDF."
Hicks concluded by saying, "Through all of my experiences with MDF, I have enjoyed the support of my wonderful wife, Linda. She has been very instrumental in the successes we have enjoyed as volunteers with the organization. Now, enough of the warm fuzzy stuff. Let's roll up our sleeves and raise some money for Mule Deer!!"
Farley Hicks succeeds Stan Lueck of Wetmore, Colo., who served two terms as Chairman of the MDF Board of Directors.
About MDF (www.muledeer.org)
The Mule Deer Foundation is a national non-profit 501(c)3 organization, with over 12,000 members. MDF's mission is to ensure the conservation of mule deer, black-tailed deer and their habitats. MDF is dedicated to restoring, improving and protecting mule deer habitat (including land and easement acquisitions) resulting in self-sustaining, healthy, free ranging and hunt-able deer populations; encouraging and supporting responsible wildlife management with government agencies, private organizations and landowners; promoting public education and scientific research related to mule deer and wildlife management; supporting and encouraging responsible and ethical behavior and awareness of issues among those whose actions affect mule deer; and acknowledging regulated hunting as a viable component of mule deer and black-tailed deer conservation.
For information about the Mule Deer Foundation please call 888-375-DEER (3337).