Mule Deer Foundation Becomes "National Sponsor" of the National Archery in the Schools Program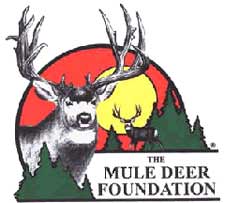 SALT LAKE CITY, Utah – -(AmmoLand.com)- The Mule Deer Foundation (MDF) announced recently they have become a "National Sponsor" of the National Archery in the Schools Program (NASP). The Mule Deer Foundation and its 12,000 volunteers work to ensure the conservation of mule deer, black-tailed deer and their habitats. One of MDF's goals is to promote public education and responsible wildlife management.
All MDF chapters will consider providing local matching grants for schools interested in the National Archery in the Schools Program.
NASP was started in 2002 in 22 Kentucky schools and has expanded to 5,000 schools in 46 states, Canada, New Zealand, South Africa and Australia. During the 2008 school year 16,000 certified instructors taught archery to some 1,000,000 students in grades four through twelve.
Mule Deer Foundation President and CEO Miles Moretti said, "We are proud to help this unique national effort. NASP does much more than teach archery. Students learn about the value of concentration, focus, practice and poise. For many of these kids it's the first chance for them to participate in a shooting sport. NASP classes are taught in schools by certified teachers and are the safest, most complete training we've seen."

Moretti continued, "This program is great for students, but what's interesting is that almost one-third of the students participate in personal and after-school target archery activities. This means they are purchasing personal archery equipment, and this generates excise taxes for the state and federal management agencies to use for wildlife conservation."
NASP President Roy Grimes was equally enthusiastic, saying, "The Mule Deer Foundation has stepped up to help us teach a lifetime sport to thousands of students across this country. We depend on conservation partners like the Mule Deer Foundation to engage young people and create future sportsmen and sportswomen."
Grimes concluded, "This program not only helps students become more confident, focused, and able to relate better to their fellow students and teachers, but also helps improve the management of wildlife by professional wildlife managers through the purchase of personal archery equipment. We are proud to have the Mule Deer Foundation as our newest national sponsor."
About MDF
The Mule Deer Foundation is a national non-profit 501(c)3 organization, with over 12,000 members. MDF's mission is to ensure the conservation of mule deer, black-tailed deer and their habitats. MDF is dedicated to restoring, improving and protecting mule deer habitat (including land and easement acquisitions) resulting in self-sustaining, healthy, free ranging and huntable deer populations; encouraging and supporting responsible wildlife management with government agencies, private organizations and landowners; promoting public education and scientific research related to mule deer and wildlife management; supporting and encouraging responsible and ethical behavior and awareness of issues among those whose actions affect mule deer; and acknowledging regulated hunting as a viable component of mule deer and black-tailed deer conservation.
For information about the Mule Deer Foundation please call 888-375-DEER (3337).