Mule Deer Foundation "Saving Deer One Acre at a Time"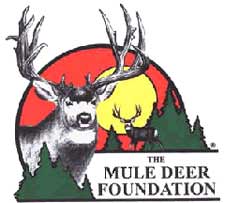 SALT LAKE CITY, Utah – The Mule Deer Foundation (MDF) completed a million dollars in on the ground habitat projects for mule deer and black-tailed deer in 2008. Thousands of acres of habitat have been restored or improved through these efforts.
MDF aggressively pursued habitat restoration projects in 14 states. Local MDF chapters worked closely with state wildlife agencies and federal land management agencies to fund a variety of habitat projects. These ranged from planting bitterbrush seedlings on deer winter range, water developments, reseeding of wildland fires, and restoration of critical sagebrush winter ranges. MDF was also a partner in the purchase of the Moylan Creek property near Denton, Mont., 1,000 acres which connects over 14,000 acres of public access land.
MDF members even stepped up to donate money to help feed deer last winter in Utah and Colorado. They volunteered hundreds of hours to help these states' wildlife agencies get feed to starving deer on snow covered winter ranges.
MDF President and CEO Miles Moretti said, "2008 was a record breaking year for the Mule Deer Foundation. We have been able to put money on the ground through over 100 local MDF chapters, the sale of state wildlife auction tags and generous donations from members and volunteers. MDF has adopted the motto of 'Saving Deer One Acre at a Time!'"
Moretti went on to say, "We could not have done it without the help of our passionate, dedicated members. MDF is committed to funding even more on the ground projects in 2009."
If you want to help with a local project, start a local chapter or work on a local chapter committee, please contact MDF at 801-747-3344 or [email protected]. You may also visit our Web site, www.muledeer.org, to learn more about the Mule Deer Foundation.
About MDF (www.muledeer.org)
The Mule Deer Foundation is a national non-profit 501(c)3 organization, with over 12,000 members. MDF's mission is to ensure the conservation of mule deer, black-tailed deer and their habitats. MDF is dedicated to restoring, improving and protecting mule deer habitat (including land and easement acquisitions) resulting in self-sustaining, healthy, free ranging and huntable deer populations; encouraging and supporting responsible wildlife management with government agencies, private organizations and landowners; promoting public education and scientific research related to mule deer and wildlife management; supporting and encouraging responsible and ethical behavior and awareness of issues among those whose actions affect mule deer; and acknowledging regulated hunting as a viable component of mule deer and black-tailed deer conservation.
For information about the Mule Deer Foundation please call 888-375-DEER (3337).