Ruger TACTICAL Mini-14 Rifle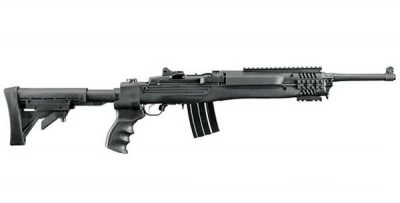 Ruger Arms – -(Thefirearmblog.com)-Ruger Mini-14® Ranch Rifles are rugged centerfire autoloading rifles that provide reliable performance with the following features:
ATI Stock model features a 6-position collapsible and folding ATI stock.

Flash suppressor model includes a compact, hammer-forged barrel with flash suppressor.

Rugged, adjustable "Ghost Ring" aperture rear sight.

Rugged, protected blade front sight.

Improved receiver with rounded contours.

Simple, rugged Garand-style breechbolt locking system, with a fixed-piston gas system and self-cleaning, moving gas cylinder.

Chambered in the popular and proven .223 Rem. cartridge.

Integral sling swivels.
More info coming soon..
For more information on the Ruger Mini-14® Ranch Rifles and the extensive line of Ruger products and services, visit www.ruger.com .
About Sturm, Ruger:
Sturm, Ruger was founded in 1949 and is one of the nation's leading manufacturers of high-quality firearms for the commercial sporting market. Sturm, Ruger is headquartered in Southport, CT, with plants located in Newport, NH and Prescott, AZ.
Source The Firearm Blog