Steyr AUG A3 SA USA Rifle Announcement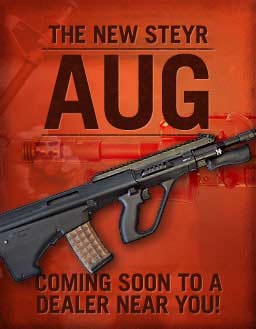 Steyr Arms, Inc – -(Thefirearmblog.com)- Is pleased to announce the unveiling of the new Steyr AUG A3 SA USA at the 2009 Shot Show in Orlando, Florida.  On Wednesday, January 14 members of the media will be the first to see and test fire the iconic rifle that Steyr fans have been waiting since the Eighties to see the newest version.
Currently, the AUG is in the final stages of product development and is expected to hit the shelves of Steyr Dealers in 1st quarter 2009.  In fact, the very first units are already in endurance testing as of the date of this article.  Most companies run 1-2,000 rounds through their guns to test them, not Steyr-Mannlicher.  The Steyr rifles have at least 10,000 rounds run through them while continually testing for both durability and accuracy.
Steyr Arms, Inc. has been inundated over the last several months by dealers and gun enthusiasts asking both when and where the new AUG would be available for sale.  Both the AUG and all other Steyr products will be available for retail purchase in your local authorized Steyr Dealer.  In fact, it is advised that you call your local dealer early as most dealers are taking pre-orders on a first come first serve basis. To look for a dealer near you, check on our website dealer page or feel free to call us at 205-467-6544.  Or simply shoot us an email on our "Contact" page.
Be sure to check back often for more information or sign up for the newsletter as new information is released on specifications, availability, pricing, etc at Steyrarms.com
About:
All STEYR MANNLICHER hunting rifles are not only technically mature, but through their subtle elegance also communicate the harmony between appearance and substance.
Source The Firearm Blog