Stoeger Coach Gun and Coach Gun Supreme – New Single-Trigger Models!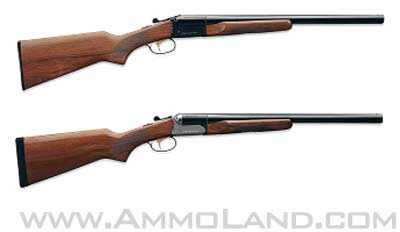 ACCOKEEK, MD – -(AmmoLand.com)- The Stoeger Coach Gun and Coach Gun Supreme are now available in single-trigger models. Short and handy, with a potent punch, Stoeger Coach Guns are modeled after the Old West stagecoach guard's weapon of choice – the lethal and efficient "sawed-off" shotgun. Originally developed as traditional, double-trigger models for use in Cowboy Action Shooting, Stoeger Coach Guns are now available in efficient, fast-shooting, single-trigger versions. Chambered for 2¾- and 3-inch shells, in 12- and 20-gauge, the single-trigger models are also very effective as home security guns.
Single-Trigger Coach Guns are available in blued finish with a standard pistol-grip stock in satin-finished walnut. The Single-Trigger Coach Gun Supreme features a blued finish with a polished, corrosion resistant, stainless steel receiver. The butt stock and beaver tail fore-end are cut from AA-grade American walnut and exhibit extensive cut checkering in a border-point pattern. Both 12-gauge and 20-gauge Supreme models come with improved-cylinder and modified screw-in choke tubes and a choke wrench.
"Stoeger Coach Guns have long been standards for Cowboy Action Shooters and folks looking for a sturdy, reliable home defense gun," said Stephen McKelvain, Benelli's VP of Marketing & Communications. "The addition of our new Single-Trigger Coach Guns to the Stoeger lineup offers an option that will get your Coach Gun into action faster and smoother, something that all of those fellows 'riding shotgun' on an Old West stage coach would have really appreciated!"
Model    Coach Gun (Single Trigger)
Gauge    12- and 20-gauge
Barrel Length    20 inches; Fixed chokes (IC & M)
Chambers    2 ¾ – and 3-inch
Sights    Brass bead front sight
Stock     A-grade walnut
Weight    6.5 lbs.; 6.4 lbs. (20-gauge)
Overall Length    36 ½ inches
MSRP    $369
Model    Coach Gun Supreme (Single Trigger)
Gauge    12- and 20-gauge
Barrel Length    20 inches; screw-in chokes IC, M (Also available: C, IC, M, F)
Chambers    2 ¾ – and 3-inch
Sights    Brass bead front sight
Stock     AA-grade walnut with checkering and soft rubber recoil pad.
Weight    6.5 lbs.; 6.4 lbs. (20-gauge)
Overall Length    36 ½ inches
MSRP    $469
To get the latest news and product information on all Benelli USA brands, along with many bonus features, log on to www.benelliusa.com