Ar-15/M16 High Capacity Magazine For .22 LR Conversions
Shoot More, Reload Less; Full-Body Design Handles Like A Mil-Spec Magazine.

Brownells.com – -(AmmoLand.com)- Dependable, high-capacity magazine handles like a standard AR-15 or M16 magazine and delivers up to 26 rounds of .22 LR ammunition in an AR-15 fitted with Brownells AR-15/M16 .22 LR Conversion Kit or any Atchisson-type conversion system.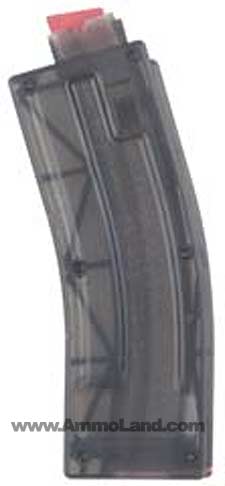 Rigorously range-tested for reliable function in both semi- and full-auto rifles. Extended, anti-tilt follower acts as a bolt stop after last round is fired. Tough, impact-resistant polycarbonate shell and follower are self-lubricating, so they work with the constant-force spring to deliver smooth, uniform feeding for consistent operation. Steel hex screws securely hold the mag body halves together to ensure exceptional strength and rigidity, yet are easily removable for disassembly and cleaning.
Available in transparent Smoke and Clear for easy round counting or solid Black. 10- and 26-Round models are the same size as USGI-type .223/5.56mm 30-Round mags. 15-Round model is the same size as a .223/5.56mm 20-Round magazine to meet the needs of benchrest shooters and others who prefer a shorter magazine.
Rebuild Kit contains all the internal components needed to rebuild three (3) 26-Round magazines and return them to factory specs.
SPECS: Injection-molded polycarbonate. Fits AR-15/M16 with an Atchisson-type .22 LR conversion system. 26-Round available in Smoke, Clear, and Black. 15-Round available in Smoke and Black. 10-Round available in Smoke only. Rebuild Kit contains three (3) each of follower, spring, base plate, and plug for 26-Round magazines.