Charities Are The Big Winners At The Rage 100 Invitational Shoot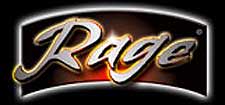 Superior, Wisconsin – -(OutDoorWire.com)- On Thursday January 7th, in conjunction with the ATA show in Indianapolis, The Rage hosted a celebrity charity 100-yard shoot in the West Lobby of the Indianapolis Convention Center. Twenty-three top names in the archery industry participated in the shoot, tallying $11,500 toward charities of their choice, ranging from local churches to Pope and Young Club. By participating in the 100-yard shoot, a $500 donation was given to the charity of their choice by The Rage.
A packed audience watched as the 23 celebrity archers took turns volleying their arrows down the 100-yard lane in hopes of hitting the bulls-eye. After four rounds of great competition, it came down to a nail-biting final round. Tim Gillingham ended up taking the first place prize of $5,000. Mike Slinkard took second, winning $2500.
"We are very excited about the success of this event and the charities that were selected by the shooters. The participation from the celebrities and the attendees was more than we could have hoped for," stated Larry Pulkrabek, President of Rage broadheads. "The Rage 100 Invitational Shoot brought a great deal of excitement to ATA. We hope to step it up a level next year.

"On behalf of Rage we would like to thank all of the shooters for participating and making the event such a success. We hope to see them all again next year."
Rage has a unique design compared to other hunting broadheads. It's streamlined in flight, but on impact the blade's shoulders catch and a "SlipCam" forces the blades to slide back and deploy from the rear, rather than from the front as traditional expandables do. This results in fully deployed blades for huge entry holes, large wound channels and better blood trails – all of which expands a hunter's kill zone. Rage broadheads are available at selected archery dealers nationwide.
Look for information on the 2nd Annual Rage 100 Invitational Shoot in Columbus, Ohio in January 2010.
For more information on Rage broadheads, 101 Main Street, Superior, WI 54880, call 715-395-0020 or visit the interactive Web site at www.ragebroadheads.com
About:
Revolutionary Rage® SlipCam™ broadheads fly with a sleek, aerodynamic, field-tip-like profile. Upon impact, the blade's shoulders catch, the SlipCam initiates forcing the blades to slide back and deploy from the rear. At the time of impact, the blades are fully deployed, giving you a bigger entry hole. Rage,™ the revolutionary rear-deploying expandable broadhead that flies like a field-tip.