Gun-Buying Event at Cabelas February 22nd – 23rd 2009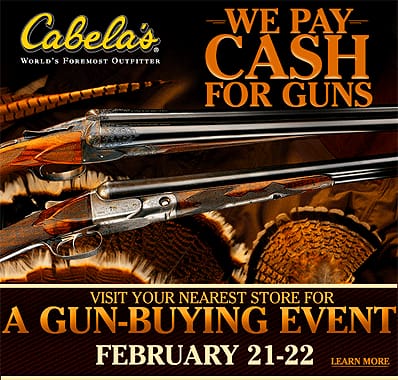 Cabelas.com – -(AmmoLand.com)- Cabela's Gun Library® is interested in acquiring functional firearms of nearly every description – old and new, plain and fancy – field models and collector grades. Whether it is a single piece or an entire collection, we are always looking to purchase quality inventory. Cabela's will travel to your location for larger quantities of arms.
* Cash will be paid up to $2,000 per gun collection. If the purchase is over $2,000, the form of payment will be by check or Cabela's Gift Card the same day. All firearms must be legally owned and pass a Serial Number cross-check. Valid Government issued ID is required. No modern muzzleloaders, black powder or airguns.
About: Cabela's
Cabela's Incorporated, headquartered in Sidney, Nebraska, is a leading specialty retailer, and the world's largest direct marketer, of hunting, fishing, camping and related outdoor merchandise. Since the Company's founding in 1961, Cabela's has grown to become one of the most well-known outdoor recreation brands in the world, and has long been recognized as the World's Foremost Outfitter. Through Cabela's growing number of retail stores and its well-established direct business, it offers a wide and distinctive selection of high-quality outdoor products at competitive prices while providing superior customer service. Cabela's also issues the Cabela's CLUB Visa credit card, which serves as its primary customer loyalty rewards program. Cabela's stock trades on the New York Stock Exchange under the symbol "CAB."