TACM3 LiteStalker II AL Camouflage Flashlight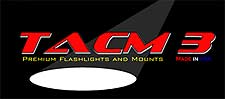 PALM BAY, FL – -(AmmoLand.com)- TACM3 Inc. is proud to announce the debut of the newest flashlight in the TACM3 line, the "LiteStalker II AL," offered in Mossy Oak® Treestand®.
Specifically designed by hunters for the most demanding of hunters, the "LiteStalker II AL" is manufactured in America by Americans out of solid bar stock aerospace grade aluminum. Using state-of-the-art machining processes and equipment, each "LiteStalker II AL" flashlight is manufactured with precision tolerances and O-Ring sealed to prevent water intrusion. Take it from us, this is one strong flashlight.
The "LiteStalker II AL" is powered by two CR123 3-volt Lithium batteries, which provide you, the sportsman in the field, with an extremely focused 105.5 lumens of blinding white light while still projecting a tremendous flood light of the surrounding area. The "LiteStalker II AL" will never leave you in the dark.
When designing the exterior of the "LiteStalker II AL" flashlight, we wanted to ensure that the light was protected from accidental activation, so you'll find that we've recessed the switch button into the end cap. With this guarded switch feature, you can rest assured that your "LiteStalker II AL" is ready when you are. As for the gripping surface, we blended the features found on the legendary Marine Corps fighting knife along with diamond cut knurling. With the "LiteStalker II AL" flashlight, you'll definitely "get a grip!"
During these financially challenging times, we at TACM3 Inc. take great pride in offering the world great products at fair prices. Paying less does not mean you're getting less. Our family owned and operated company platform has always been straight forward, "Keep it Simple" and make durable products that work. Premium quality, lightweight, high-intensity flashlights, and the worlds most effective camouflage patterns by Mossy Oak. It doesn't get any better than that.
About:
TACM3 produces official licensed products of Mossy Oak/ Haas Outdoors Inc. Haas Outdoors Inc. is headquartered in West Point, Miss., was established in 1986 and is home of Mossy Oak (www.mossyoak.com). Mossy Oak specializes in developing and marketing modern camouflage designs for hunters and outdoorsmen. Mossy Oak patterns can be found on a multitude of products worldwide. Haas Outdoors Inc. is the outdoor industry leader in modern camouflage design, international licensing and marketing. Haas Outdoors Inc. markets its services and products under widely recognized brands including: Mossy Oak, BioLogic, Mossy Oak Productions, Mossy Oak Interactive, LLC, Nativ Nurseries and Mossy Oak Properties.