The Millennium M300 Tree Seat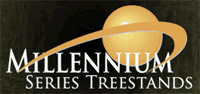 Pearl, Mississippi – -(AmmoLand.com)- When it comes to success afield, sometimes you've gotta get down and dirty giving up your perch up high for a hunting setup on ground level. Whether you're targeting deer, turkey, squirrel, ducks or dove, the M300 Tree Seat™ by Millennium, will provide you with ground-level comfort essential for remaining motionless as the minutes pass. Cooler in warm weather and quieter than cushions, the contoured, tight sling seat bottom makes waiting out the big ones a pleasure rather than a pain.
The Millennium Tree Seat is not only comfortable, but it's light weight, silent and easy to set up with a durable powder-coat finish that stands up to even the harshest of elements. The Textilene vinyl-coated polyester tight sling seat resists water and scent, and the backpacking shoulder strap makes toting the seat to your hunting location a breeze. For extra comfort, add the optional cold-weather camouflage seat pad.
Just because you're hunting low to the ground doesn't mean you also have to lower your expectations for comfort and maneuverability. Try the Millennium Tree Seat and take ground hunting to the next level.
Lifetime Warranty
Retail: 69.95
Check out www.MillenniumStands.com for more info.
About:
Hunting Solutions was founded in 1999 our mission is to provide hunters with safe, high quality products at a fair price. Hunting Solutions is dedicated to quality design and workmanship that can be seen in all our products. This is how we are able to offer an unlimited lifetime warranty.