Sale of Utah Statewide Deer Tag Raises Record Amount for Conservation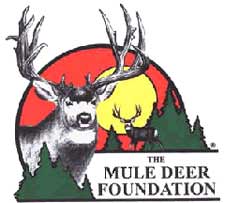 SALT LAKE CITY, Utah – -(AmmoLand.com)- The Western Hunting and Conservation Expo (WHCE) Grand Finale Banquet and Auction held Saturday night at the Salt Palace was another record-breaking event this year. Some 1,200 friends of conservation attended the gala hosted by Jeff Foxworthy.
During the live auction, the Mule Deer Foundation (MDF) sold its 2009 Utah Statewide Deer tag for an all-time record amount of $205,000. The 2009 Utah Henry Mountain Deer tag raised another $90,000 for conservation.
MDF's President and CEO Miles Moretti said, "The state of Utah has produced some of the largest deer in the country, as evidenced by the competitive bidding on these tags. This has been a great event for the Mule Deer Foundation, and we could not be more pleased."

Moretti concluded, "Once again we are breaking records at the WHCE, both in attendance and in dollars raised to benefit wildlife. We're looking forward to next year's event scheduled for Feb. 11-14, 2010, and will have some exciting announcements coming soon."
About:
MDF The Mule Deer Foundation is a national non-profit 501(c)3 organization, with over 12,000 members. MDF's mission is to ensure the conservation of mule deer, black-tailed deer and their habitats. MDF is dedicated to restoring, improving and protecting mule deer habitat (including land and easement acquisitions) resulting in self-sustaining, healthy, free ranging and huntable deer populations; encouraging and supporting responsible wildlife management with government agencies, private organizations and landowners; promoting public education and scientific research related to mule deer and wildlife management; supporting and encouraging responsible and ethical behavior and awareness of issues among those whose actions affect mule deer; and acknowledging regulated hunting as a viable component of mule deer and black-tailed deer conservation.
For information about the Mule Deer Foundation please call 888-375-DEER (3337).