Carson Introduces The Redesigned And Improved Stuff-It™ Lens Cloth
Hauppauge, NY – -(AmmoLand.com)- Carson has recently told all of its customers to stuff-it, that's right Stuff-It™.
Carson Optical's patent pending microfiber lens cloth, called the Stuff-It™, has recently been redesigned and improved.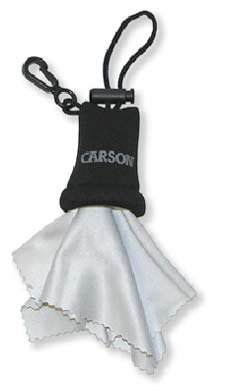 Already ideal for cleaning eyeglasses, binoculars, scopes, PDA's, cell phones and more, the Stuff-It™ now has an even better microfiber cloth to ensure optimal performance. In addition, the enhanced pouch design allows even quicker cloth access and then faster storage of the cloth after use.
The retractable pouch keeps the lens cloth clean and "at the ready." It can fit easily in a pocket, purse or glove compartment or you can attach it to a backpack via the handy key clip. The Stuff-It™ is available in black, blue or red.
About:
Carson Optical is a leading supplier of consumer optics for hunter and shooters of all ages and interests. Carson is known for innovative, high-quality optics at extraordinary value. Carson branded products include a wide range of Binoculars, Magnifiers, Scopes and related optical accessories. Carson Optical services the hunting, fishing, birding, outdoor, children's educational toy and lifestyle markets. Contact us toll-free: 1-800-9-OPTICS or visit our web site at www.carsonoptical.com or e-mail us at [email protected]