Contact Your Federal Legislators to Stop Ban on Lead in National Parks
Sportsmen nationwide must immediately contact their U.S. representatives and senators.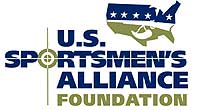 Washington, DC – -(AmmoLand.com)- Ask your congressman and two U.S. senators to urge the Obama Administration to stop the National Park Service from its plan to stop the use lead ammunition and fishing tackle on its lands.
The park service, which administers many lands that permit hunting and fishing, including National Preserves, National Recreation Areas and National Rivers, announced March 10 that it would ban lead ammunition and sinkers from its lands.
Acting NPS Director Dan Wenk stated that the NPS goal is to eliminate all lead in ammunition and tackle by the end of 2010.
Over 20 million acres of NPS land is open to hunting and would be adversely impacted by this decision.
This decision is seen as a blatant anti-hunting move. It is clearly designed to limit hunting by imposing high priced alternative products like tungsten, copper, and steel.
It will reduce available conservation dollars as sportsmen reduce purchases of hunting and angling gear.
Take Action! Sportsmen are urged to contact their congressperson and their senators and tell them to ask the Obama Administration to oppose this measure. Tell them banning lead will destroy both part of America's heritage and reduce conservation dollars.
To find your Representative's phone number use the Legislative Action Center.
For more information regarding the U.S. Sportsmen's Alert Network, call 614-888-4868, or email Greg R. Lawson, director of communications at [email protected] or Sharon Hayden, assistant director of communications data at [email protected]
U.S. Sportsmen's Alliancee
801 Kingsmill Parkway
Columbus, Ohio 4322929
614-888-4868
www.ussportsmen.org
[email protected]
About:
The U.S. Sportsmen's Alliance is a national association of sportsmen and sportsmen's organizations that protects and advances America's heritage of hunting, fishing and trapping. It does so in the courts, state legislatures, at the ballot, in Congress and through public education programs. For more information about the U.S. Sportsmen's Alliance and its work, call (614) 888-4868 or visit its website, www.ussportsmen.org.