Engraved Westley Richards Hammerless Boxlock Double Barrel Shotgun
Rock Island's fantastic Spring Premiere Auction to be held April 25th, 26th and 27th 2009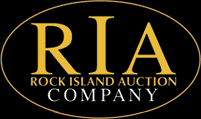 Rock Island Auction Company – -(AmmoLand.com)- 'William Westley Richards founded his own company in 1812 at 82 High St., Birmingham.
This shotgun features casehardened action and tangs with the remaining surfaces blue. Single brass bead sight on the matte solid rib with dolls head extension, choked modified/improved modified, chambered for 3″ shells with ejectors. The top of the concave solid rib is marked "WESTLEY RICHARDS & CO LONDON" .
The scalloped action, trigger guard, break lever and forearm hardware are nicely engraved with fine English scroll patterns and "WESTLEY RICHARDS" in a banner on each side of the action. The trigger guard is engraved with a hunting dog in a wooded scene. The serial number is relief engraved on the lower tang.
The top of the receiver is marked "WESTLEY RICHARDS / PATENT ONE TRIGGER" between the doll's head and break lever. The water table is marked with patent numbers and crown proofs. The bottom of each barrel flat is marked with the "crown / NP" and "crown / BV" proofs, the tonnage rating and marked "2 3/4″, however the chambers gauge out at 3".
Tang safety, single trigger with selector mounted to the right and gold inlaid "L" and "R". The shotgun is mounted with extra fancy European checkered walnut beaver tail forearm and straight grip stock with a solid red recoil pad and gold initial oval on the bottom.
Condition:
'Excellent. The barrels retain approximately 95% of the original finish with some thinning on the rib, some fading to a smooth plum on the muzzle ends and a few scattered scratches and scuffs.
The lower receiver plate and trigger guard retain approximately 30-40% original blue finish with the balance having a smooth gray patina. The action has faded to a smooth satin gray with strong traces of the original faded case colors.
The wood is excellent with only a few overall scattered minor dings and handling marks. The checkering is crisp. The markings and engraving remain clear and crisp. Mechanically excellent.
Auction Estimate: $18,000 – $22,500
Visit Rock Island Auction to Bid Online…
Auction Details:
Rock Island Auction Company announces the next Premiere Firearms auction to be held at their facilities in Moline, IL. The huge success of our regional sale ($2.2 million) proves that people are investing in what they know: firearms are solid investments that hold value through economic downturns. Investing and collecting opportunities abound at Rock Island's fantastic Spring Premiere Auction to be held April 25th, 26th and 27th. At a time when the stock market changes daily, gun collectors are seeing the worth of their investments. Hard assets are the place to invest your money and gun values continue to rise. This auction has firearms for every level of collecting and investing from Colts to Winchesters, military to Class III and the hundreds of high quality sporting arms. Rock Island's continued sell through rate of over 97% proves that items that come to RIAC are for sale and now is your chance to make a solid investment.
About:
Rock Island Auction Company has been solely owned and operated by Patrick Hogan. This company was conceived on the idea that both the sellers and buyers should be completely informed and provided a professional venue for a true auction. After working with two other auction companies, Mr. Hogan began Rock Island Auction in 1993. Rock Island Auction Company has grown to be one of the top firearms auction houses in the nation. Under Mr. Hogan's guidance the company has experienced growth each and every year; and he is the first to say it is his staff's hard work and determination that have yielded such results.