Everything is new this week on Shooting USA
A Full Hour of New Products and a new episode of Impossible Shots.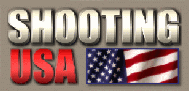 The Shooting USA – SHOT Show Hour Special
It's the annual big event for the industry, with all the new products that will make news this year. We're taking you inside the dealers only SHOT Show to see and try the newest guns and gear. It's our annual one hour special from the Shooting Hunting and Outdoor Trade Show in Orlando, Florida. Our entire reporting team is running and gunning to find the new stuff that will be in the pages of the gun magazines, whenever they get around to publishing some paper. You'll see it first on Wednesday night.
If you're recording, be sure to include Sighting In with Shooting USA which is the second half of our hour of news coverage on the floor of the Orlando Convention Center.
Shooting USA's Impossible Shots – Hip and Lip
Bob Munden tries splitting a playing card shooting from the hip. Then Byron Ferguson trades his long bow for a hammer to create his Impossible Shot. Brian Speciale anchors our coverage of the world's most amazing exhibition shooters.
The Shooting USA Hour Special begins Wednesday at the following times. On Outdoor Channel, of course.
Eastern Time: 4:30 PM, 8:30 PM, 12:00 Midnight
Central Time: 3:30 PM, 7:30 PM, 11:00 PM
Mountain Time: 2:30 PM, 6:30 PM, 10:00 PM
Pacific Time: 1:30 PM, 5:30 PM, 9:00 PM
Shooting USA's Impossible Shots airtimes:
Eastern Time: 3:00PM, 10:30PM, 2:30AM (Thursday AM)
Central Time: 2:00PM, 9:30PM, 1:30 AM
Mountain Time: 1:00PM, 8:30PM, 12:30AM
Pacific Time: Noon, 7:30PM, 11:30PM
The Smith & Wesson Gun of the Month Contest:
By the time you see the SHOT Show news coverage of the new Pro Series 1911, our January Gun of the Month, one of you will have already won it. I have the list of entries for January and somebody will get the phone call today. If it's a call from Nashville, area 615, take it. It's likely to be me.
Meantime, three of our sponsors have joined together for the February Gun of the Month. Smith & Wesson, Crimson Trace, and Blackhawk have combined to set one of you up with the perfect concealed carry package. Centennial model 642, with factory installed laser grips, and a SERPA retention holster to pack it.
Good luck!
And be sure to let me know if you enjoy our humor in this year's SHOT show coverage.
Jim at www.ShootingUSA.com