Connecticut Shotgun Manufacturing Co. Model 21 Double Barrel Rifle Up for Auction
Rare Special Order Cased Engraved Gold Inlaid Exhibition Grade Connecticut Shotgun Manufacturing Co. Model 21 Double Barrel Rifle with Accessories.
Rock Island's fantastic Spring Premiere Auction to be held April 25th, 26th and 27th 2009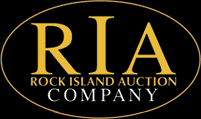 Rock Island Auction Company – -(AmmoLand.com)- This is a magnificent special order, custom built, engraved and gold inlaid Model 21 double rifle done by Connecticut Shotgun Manufacturing Company. The barrels are equipped with a raised ramp, front blade sight with a brass bead tip and a "V" notch fixed rear sight with a folding leaf on the matte rear quarter rib.
The top, rear of the left barrel is marked "MODEL 21 -CSM- / TRADE MARK .405 WIN". The bottom of the barrels are marked "CT. SHOTGUN MFG. / NEW BRITAIN, CT. U.S.A.. There is a 3" wedge of floral scroll engraving on the breech end of the barrels. The barrel flats, breech face and lugs are jeweled and each is marked with an intertwined "WS" in an oval proof mark. The receiver is engraved with floral scroll patterns surrounding a gold inlaid lion and kudo in panels on the left side, a gold inlaid cape buffalo and leopard in panels on the right side and a gold inlaid rhino in a circle on the bottom. The same engraving pattern extends to the break lever, trigger guard and forearm latch assembly and hardware. In addition, there is a gold inlaid head of a cheetah on the trigger guard.
The consignor states that he commissioned Geoffrey Gournet to do the outstanding gold animals on this gun. The water table and breech face are also jeweled with the oval proof on the right side and "MADE IN U.S.A. MODEL 21 / CONNECTICUT SHOTGUN MFG. / NEW BRITAIN, CONN." on the left . Gold plated double triggers and tang mounted safety with the gold inlaid word, "SAFE". Mounted with exhibition grade, fancy Fleur-de-Lis, hand checkered, semi-beaver tail forearm, as well as an ebony forend insert and pistol grip stock with scroll engraved metal grip cap, gold initial oval on the bottom and solid leather wrapped recoil pad.
c
Complete in an oak and leather case with bright brass corner protectors and wine colored felt lining. There is a leather label affixed to the inside of the lid which is gold embossed "CONNECTICUT SHOTGUN MFG. CO. / NEW BRITAIN, CONNECTICUT / Galazan logo / MODEL 21 / GALAZAN / TRADEMARK". Included in the case is a two-piece walnut cleaning rod, a black leather pouch containing cleaning rod attachments, test target, a roll of fabric for patches, a silicone cloth, an unmarked nickel oiler and two nickel snap caps. The case has a canvas cover.
It should be noted that 21 Double Rifles, other than .22 caliber, are no longer found in the CSM catalog. This is believed to be because they are very expensive to build.
Condition:
Near new with only the slightest handling marks and light scuffs on the breech face from opening and closing the barrels. The case is as new. Truly a spectacular custom built, cased engraved and gold inlaid, Exhibition Grade Model 21 double barrel rifle.
Auction Estimate: $30,000 – $50,000
Visit Rock Island Auction to Bid Online…
Auction Details:
Rock Island Auction Company announces the next Premiere Firearms auction to be held at their facilities in Moline, IL. The huge success of our regional sale ($2.2 million) proves that people are investing in what they know: firearms are solid investments that hold value through economic downturns. Investing and collecting opportunities abound at Rock Island's fantastic Spring Premiere Auction to be held April 25th, 26th and 27th. At a time when the stock market changes daily, gun collectors are seeing the worth of their investments. Hard assets are the place to invest your money and gun values continue to rise. This auction has firearms for every level of collecting and investing from Colts to Winchesters, military to Class III and the hundreds of high quality sporting arms. Rock Island's continued sell through rate of over 97% proves that items that come to RIAC are for sale and now is your chance to make a solid investment.
About:
Rock Island Auction Company has been solely owned and operated by Patrick Hogan. This company was conceived on the idea that both the sellers and buyers should be completely informed and provided a professional venue for a true auction. After working with two other auction companies, Mr. Hogan began Rock Island Auction in 1993. Rock Island Auction Company has grown to be one of the top firearms auction houses in the nation. Under Mr. Hogan's guidance the company has experienced growth each and every year; and he is the first to say it is his staff's hard work and determination that have yielded such results.