U.S. Sportsmen's Alliance Foundation: Right Call on Wolf Delisting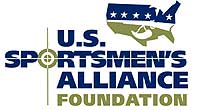 Columbus – -(AmmoLand.com)- The U.S. Sportsmen's Alliance Foundation is pleased with today's decision by Interior Secretary Ken Salazar to continue with the removal of the gray wolf from the Endangered Species Act (ESA).
"Secretary Salazar made the right call on delisting the gray wolf," stated Rob Sexton, Vice President for Government Affairs at the U.S. Sportsmen's Alliance Foundation (USSAF). "This decision is based on sound science, not politics."
As Salazar indicated in his announcement statement, "The recovery of the gray wolf throughout significant portions of its historic range is one of the great success stories of the Endangered Species Act."
According to all scientific evidence, the gray wolf populations in the Northern Rockies and the western Great Lakes region have grown dramatically since their initial listing in 1974. Today, there are more than 5,500 wolves. 1,600 reside in the Rockies.
Previously, a coalition of environmental and animal rights groups filed lawsuits in 2008 to block the Bush administration's then proposed delisting of 1,500 wolves in the Northern Rockies. The USSAF Wisconsin Bear Hunters' Association and a series of other conservation groups intervened in that case.
"Given the population growth, there were no valid reasons that states cannot resume management of the wolves," said Scott Meyer, of Gleason Wisconsin, who joined USSAF as an intervener in the case.
The decision from Secretary Salazar comes in the face of intense lobbying by leading anti-hunting groups including the Humane Society of the United States (HSUS).
The U.S. Sportsmen's Alliance Foundation protects and defends America's wildlife conservation programs and the pursuits – hunting, fishing and trapping – that generate the money to pay for them. The U.S. Sportsmen's Alliance Foundation is responsible for public education, legal defense and research. Its mission is accomplished through several distinct programs coordinated to provide the most complete defense capability possible. For more information about the U.S. Sportsmen's Alliance Foundation and its work, call (614) 888-4868 or visit its website, www.ussafoundation.org.