Protect Your Broadheads – Get The New Rage Cage!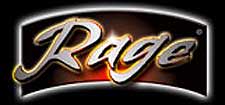 Superior, Wisconsin — -(AmmoLand.com)- The Rage, the broadhead that has revolutionized mechanical broadhead technology, now offers a specially designed case to protect both the 2-blade and the 3-blade broadheads.
The Rage Cage perfectly holds six Rage broadheads. It has custom foam that is specially designed to fit the heads. It also comes with a vial for replacement parts that easily fits into the Rage Cage's custom foam wells. The vibrant Rage red case makes it very easy to locate whether it is packed in a duffle bag or in the back of your truck.
Keeping broadheads safe and easy to locate is very important. The Rage makes it very easy now with the new Rage Cage that is available at retailers nationwide for $14.99.
Rage broadheads are available in 100-grain in either a 2 or 3 blade design for a package of three. They retail for $44.99 each.
About:
For an in-depth look at The Rage and the revolutionary patented designs, check out the new interactive web site www.ragebroadheads.com Be sure to spend some time looking at the High Speed Footage comparing the impacts of fixed, traditional expandables, and both models of Rage .For more information about The Rage, please write: The Rage, 101 Main Street, Superior, Wisconsin 54880, or call 1-715-395-0020.