Maryland Artist Wins 35TH Annual Maryland Migratory Game Bird Stamp Design Contest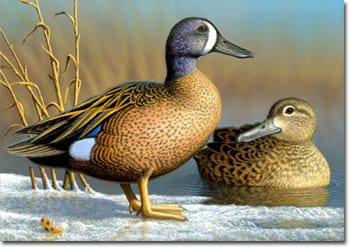 Annapolis, Md. – -(AmmoLand.com)- A painting by Wally Makuchal Jr. entitled "Icy Refuge" will become the 2009-2010 Maryland Migratory Game Bird Stamp. The entry shows a pair of blue-winged teal resting on the water. It was judged as the best of 35 entries from 18 Maryland artists.
"This was one of the more exciting contests in recent history as the panel of expert judges remained deadlocked after the final round," said Doug Wigfield, Maryland Department of Natural Resources (DNR) Stamp Contest Coordinator.
Mr. Makuchal has taken part in Maryland's "Duck Stamp" competition since the early '80s and was the winner in 1999. He also took top honors in the 1996 Maryland Trout Stamp Contest. He owns and operates Makuchal Signs out of Girdletree, MD.
The small Eastern Shore town of Girdletree has produced three Maryland Duck Stamp winners: Wally, his brother Paul and Roger Lent. All three are also two-time winners of Maryland's contest.
You can order a print of this years winning entry visiting his website at www.makuchalsigns.com or by calling 410-632-2825.
The Maryland Migratory Game Bird Stamp Design Contest showcases the talents of the gifted artists that reside near Maryland's Chesapeake Bay and its tributaries. The stamps produced are a required purchase by all who hunt migratory game birds. The proceeds from the $9.00 stamps are used to fund migratory game bird research and habitat enhancement on the state's public lands. More than $4 ½ million in stamp sales have been spent on migratory game projects since the stamps inception in 1974.
The contest is limited to Maryland residents. The 2009 event took place at the 20th Patuxent Wildlife Art Show held in March at the National Wildlife Visitors Center in Laurel.