Mule Deer Foundation Elects Two New Board Members
Kenn Loch, manager for Shell Exploration and Production Company, and Jim Steadman Northern Regional Vice President for Supplemental Health Care, join MDF Board of Directors.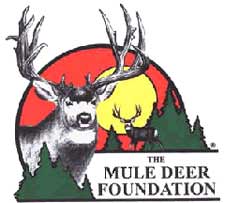 SALT LAKE CITY, Utah – -(AmmoLand.com)- The Mule Deer Foundation (MDF), a non-profit wildlife conservation organization dedicated to ensuring the conservation of mule deer, black-tailed deer and their habitats, recently announced the appointment of Kenn Loch and Jim Steadman to its Board of Directors.
"Jim Steadman and Kenn Loch will be valuable additions to the MDF Board of Directors. Both these gentlemen bring experience in working with non-profit organizations and a dedication to mule deer. They have also been very successful in their respective careers," said Miles Moretti, MDF President and CEO.
Kenn Loch was born and raised in northern California where he learned to appreciate the abundant natural resources of the West. At an early age he was introduced to archery, which later developed into a passion for hunting and wildlife conservation. Loch holds a Master's degree in engineering from the University of California at Berkeley. He has spent his professional career in the energy industry where he currently works for Shell Exploration and Production Company as a manager focused on capital prioritization and business performance of onshore and offshore developments. Mr. Loch now resides in Katy, Tex., with his wife Peggy, and their two children.
Jim Steadman lives in Salt Lake City, Utah, and has been married to his wife Jodi for almost 25 years. The couple have six children together, four girls and two boys. Steadman is a Regional Vice President for Supplemental Health Care, a work force solutions provider to hospitals and healthcare facilities throughout the United States. He has worked in the staffing industry for the past 16 years and has a strong track record of success in opening new markets, improving underperforming offices and maintaining a consistent trend of growth.
Both Steadman and Loch feel a responsibility to leave a "lasting legacy" to future generations and believe their affiliation with the MDF will help further that goal.
"We are excited to have Kenn and Jim on the board," said Farley Hicks, MDF's Chairman of the Board. "They both add passion, experience and expertise to our group and bring great enthusiasm to the organization. You can expect to hear a lot from these new members in the future. They truly compliment the board."
These additions increase the number of MDF directors to 13. In addition to Steadman and Loch, the members of MDF's board include Chairman of the Board Farley Hicks, Elko, Nev.; Vice Chair Steve Boero, Redding, Calif.; Bill Burbridge, Ogden, Utah; Greg Glasgow, Meeker, Colo.; Bob Jacobs, Flagstaff, Ariz.; Greg James, Mercer Island, Wash.; Pat Juhl, Klamath Falls, Ore.; Stan Lueck, Wetmore, Colo., Ray Rugg, Missoula, Mont.; Hal Stauff, Shingle Springs, Calif.; and David Stevens, Wilson Creek, Wash. The next board meeting will be June 5-6 at the Deseret Ranch in Utah.
About MDF:
The Mule Deer Foundation is a national non-profit 501(c)3 organization, with over 14,000 members. MDF's mission is to ensure the conservation of mule deer, black-tailed deer and their habitats. MDF is dedicated to restoring, improving and protecting mule deer habitat (including land and easement acquisitions) resulting in self-sustaining, healthy, free ranging and huntable deer populations; encouraging and supporting responsible wildlife management with government agencies, private organizations and landowners; promoting public education and scientific research related to mule deer and wildlife management; supporting and encouraging responsible and ethical behavior and awareness of issues among those whose actions affect mule deer; and acknowledging regulated hunting as a viable component of mule deer and black-tailed deer conservation.
For information about the Mule Deer Foundation please call 888-375-DEER (3337).