Muzzy's Bad To The Bone Bucks 8 DVD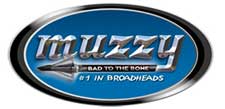 Cartersville, GA – The name says it all. Muzzy's "Bad To The Bone Bucks 8" features members of the Muzzy team gettin' down and dirty and doing whatever it takes to seal the deal. Watch as the determined hunters travel to 11 different states in the US, plus Canada and Mexico, to match wits with some burly bruisers.
You'll get a taste of the entire hunting season…from the opening day in Wisconsin, to the Halloween bucks of Illinois, to the final, frigid days in North Dakota. The Muzzy Moments just keep on coming throughout 19 thrilling hunts.
The well-seasoned Muzzy Pro Staff includes many of the biggest names and faces in bow-hunting television, such as Jackie Bushman, Pat Reeve, Stan Potts and Greg Miller, but you'll also meet several new names and faces with some wild Muzzy Moments of their own. Enjoy 100% fair-chase bowhunting with some of the most mind-boggling hunting footage you've ever witnessed.
You can purchase "Bad to the Bone Bucks 8" at your local Muzzy retailer or online at www.muzzy.com. Call 1-800-222-7769 for more info. You'll receive a free Muzzy window decal with your purchase.
About:
At Muzzy t's about attitude. Some are hunters and some are gatherers. We are hunters. Hunting is one of man's most basic instincts. It is at the core of our being. Undeniable. Some learn to gather, but we were born to hunt. The first tools of early man were the spear, not the hoe. It's about understanding nature, the world as it is, and our place in that world. And it's about acceptance. Accepting the natural challenge of taking a wild animal on its own turf using intelligence, some sharp tools and little else. We accept it because are are more than hunters, we are bowhunters. Different. A breed apart. An elite cadre of the hunting world with the drive to test our skills in nature's own arena. It is who we are. And we are bad to the bone.