New Redding Reloading Equipment G-Rx Die Set Begins Shipping
Cortland, New York – -(ShootingWire.com)- Redding Reloading Equipment has begun shipping quantities of its highly innovative G-Rx Die Set to Reloading Distributors and Redding Retailers.
This highly anticipated product alleviates the problems associated with reloading some 40 S&W brass, which has been fired in popular autoloaders.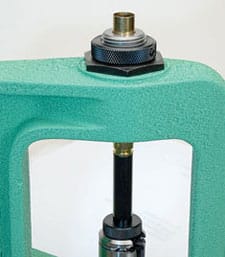 This problem is that of the bulged and often unusable, fired cases produced by some of the most popular current autoloaders in the 40 S&W caliber.
With the current high cost and difficulties in obtaining brass cartridge cases, the market needs a method to restore these cases to reliably function when reloaded.
Normal sizing dies do not resize the bulged section as it often extends into the web area of the case.
Redding Reloading Equipment responded by designing a unique push through die, which fully resizes the bulged area of the fired case back to within the accepted SAAMI specifications for case diameter. The case may then be resized in a standard sizing die for the remaining reloading process.
The Redding G-Rx die set is comprised of a pusher rod, which fits into the ram like a shell holder plus the unique push through sizing die with lock ring. To use, the case is set on top of the pusher. Then the ram is raised to push the case entirely through the die. The die has a rebated section at its top to hold the finished case so that it may be easily removed. With the Redding G-Rx Die Set you can remove the bulge from literally hundreds of cases per hour preparing them for the reloading process.
About:
Redding offers numerous unique solutions to improve the accuracy, consistency and reliability of your handloaded ammunition. For more information and a current color catalog contact: Redding Reloading Equipment 1089 Starr Road Cortland, NY 13045, or visit us on the web at: www.redding-reloading.com.