Champion DuraSeal Targets Win NRA 2009 Golden Bullseye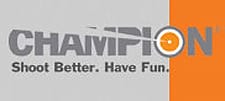 ONALASKA, Wis. – -(AmmoLand.com)- Champion® Traps & Targets celebrated the win of a 2009 NRA Golden Bullseye Award at the 138th NRA Show in Phoenix, Arizona. Selected as American Rifleman's"Accessory of the Year," Champion's DuraSeal™ Spinner Targets captured the honor with its innovative material, rugged construction, reasonable price and focus on the inherent fun of target shooting.
Why we target shoot
As their tagline, "Shoot Better. Have Fun." indicates Champion Trap & Targets focuses on producing targets that generate maximum shooting fun. From standard paper and metal targets to interactive targets like VisiChalk and the award-winning DuraSeal Spinners, Champion products remind shooters how rewarding target shooting can be. "Sometime we need to remember that the reason we started shooting in the first place is that it's fun," claimed American Rifleman Editor-in-Chief Mark Keefe. "The Champion DuraSeal Spinners are just plain, practical fun on the range. They're easy to set up, you don't have to worry about bullet splatter like on steel and they hold up well even after taking a major pounding. They are a regular part of my rifle practice."
Comments from the NRA
Featured in American Rifleman's June 2008 Editor's Choice Product Preview, Champion's DuraSeal Spinner Targets won positive reviews for its non-metal, self-healing DuraSeal material. Weighing 80 percent less than metal equivalents, this material receives minimal damage from bullet strikes because bullets are allowed to pass through the target. According to the NRA, "These auto-resetting targets handle varmint rifles and handguns, as well as many large-caliber rifles. And it's that kind of versatility that will always capture our attention and respect. This is the kind of product that makes shooting more fun, and for that reason we're pleased to name Champion DuraSeal targets the Accessory Product of the Year."
To learn more about Champion DuraSeal Spinner Targets as well as their lineup of traps, targets and shooting accessories such as eye and ear protection, visit www.championtarget.com.
About:
Champion Traps & Targets. Whether you are a gun club manager or a recreational backyard shooter, choosing the right equipment for top performance is important. Years of dedicated research and design means we can offer a full range of targets and traps for all of the shooting disciplines.