Friends of NRA Volunteers of the Year Named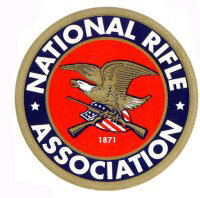 FAIRFAX, VA – -(AmmoLand.com)- The Friends of NRA Volunteers of the Year Award recognizes those volunteers who have made an outstanding impact on the program at the local or regional levels during the previous year. There are many who contribute their time to Friends of NRA banquets each year, but those who lend exceptional help deserve recognition. This new program by Friends of NRA is designed to let these dedicated and loyal volunteers know their efforts do not go unseen and are deeply appreciated.
Area Volunteers of the Year are individuals acknowledged for their hard work and accomplishments that enhanced the success of banquets over the past year. They are recommended by their Area Field Representative and chosen by a select committee of senior NRA staff, who evaluates criteria such as banquet tickets sold, sponsorships sold, pre-event raffle dollars, and underwriting they received during the previous year, as well as years of volunteer work and positions held during their service. Recipients of the award were given a sharp "2008 Friends of NRA Volunteer of the Year" leather jacket to further display their support for the NRA along with special recognition from their Area Field Representative.
Region Volunteers of the Year are chosen from those already selected as Area Volunteers by senior NRA staff. They make a tremendous impact in the Friends of NRA program not only locally, but also throughout the entire region they volunteer. Each Regional Volunteer will be honored as a guest to the 2009 Annual Meetings in Phoenix, Arizona, and recognized at the National NRA Foundation Banquet, which takes place Thursday, May 14th.
"This award stands as a tribute to your leadership, dedication and commitment to the preservation of the shooting sports and the Second Amendment that have advanced and will continue to expand the shooting sports in America," wrote Wayne LaPierre in a letter awarded to Region Volunteers of the Year.
Below is the list of winners for the Friends of NRA Regions and Areas.
Region Volunteers of the Year:
Eastern Region: Pennsylvania (Western): Dale Emerick, Pennsylvania's 1st
Central Region: Indiana: Brent Weil, Southwestern Indiana
Mid West Region: Oklahoma: Rick Cook, Western Oklahoma
Southern Region: Louisiana and Mississippi (Southern): Dick Withers, Central Mississippi
Western Region: Washington (Western): Brian Peters, Southwest Washington
Area Volunteers of the Year:
Eastern Region:
Connecticut, Massachusetts, New York (Lower) and Rhode Island: Ray Hanley, Nutmeg
Delaware and Pennsylvania (Eastern) Charles Fox, Bradford Area
Maine, Vermont, New Hampshire and New York (Northern): Charles Rumsey, Penobscot County
Maryland and New Jersey (Lower): Margaret Clarke, Anne Arundel County
New York (Upper): Jacqueline Emslie, Mid Hudson
North Carolina (Eastern): Myron Cross, Coastal Carolina
North Carolina (Western): Penny Gilliam, Western North Carolina
Virginia (Eastern) and Washington, D.C.: David Wells, Southside Sportsman
Virginia (Western) and West Virginia: David Thompson, Midland Trail
Former Area Massachusetts, New York (Northern) and Rhode Island: Stephen Tomas, Worcester County
Central Region:
Illinois (Northern): Richard & Monica Young, McHenry County
Illinois (Southern): Dennis Wilkins, Madison County
Kentucky: Tom Laswell, Northern Kentucky
Michigan: Jeff Lafave, Livingston County
Missouri: Albert Boeving, South East Missouri
Ohio (Northern): Tom Paumier, Tuscarawas Valley
Ohio (Southern) Jim Dunkle, Zanesville
Tennessee: Bill Huff, East Tennessee
Wisconsin: Phil Zipp, North Central Wisconsin, Northwoods and SportsNorth
Mid West Region:
Colorado: Richard Gandolf, Colorado Springs
Iowa and Nebraska: Mic Goc, Crossroads
Kansas: Kevin and Krissane Smith, Capital City
Minnesota: Steven Weckwerth, North Country
Montana: Larry Stephenson, Bridger Mountains
New Mexico: Dana Terlecky, Sierra Blanca
North Dakota and South Dakota: Ron Walgamuth, Great Plains
Wyoming: Paul Hoeft, Buffalo Bill
Southern Region:
Alabama: Joe Phillips, Wiregrass
Arkansas and Mississippi (Northern): Brenda Donaldson, Capital City
Florida (Northern): Patty Williams, Suwannee River and Florida Gateway
Florida (Southern): Cory O'Connors, South Bay
Georgia: Dr. Ben Merritt, Vidalia
South Carolina: Luther Harmon, Jr., Saluda
Texas (Northern): Mark Friend, Longview
Texas (Southern): Laura Berry, Corpus Christi
Texas (Western): Mary Jeanne Asbury, Sandhills
Western Region:
Alaska: Denny Hamann, Alaska State
Arizona: Rex Hinshaw, Zane Grey
California (Central): Robert Anderson, Merced and Central California State
California (North Eastern) and Nevada (Western): Steve & Julie Carroll, Modesto
California (North Western): John Bower, North Santa Cruz County
California (Southern) and Nevada (Southern): Carl Overmyer, North Orange County
Hawaii and Oregon: Chris Pellissier, Jefferson State
Idaho (Northern) and Washington (Eastern): David Douglas, Kittitas County
Idaho (Southern), Nevada (Eastern) and Utah: Ruth Drake, White Pine
About:
Established in 1871, the National Rifle Association is America's oldest civil rights and sportsmen's group. Four million members strong, NRA continues its mission to uphold Second Amendment rights and to advocate enforcement of existing laws against violent offenders to reduce crime. The Association remains the nation's leader in firearm education and training for law-abiding gun owners, law enforcement and the military.