Muzzy Boasts 25 Years of Never-Fail Broadheads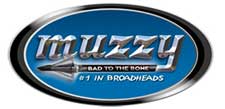 Cartersville, GA – -(AmmoLand.com)- In 1984, after retiring from a successful restaurant business, 65-year-old John Musacchia, Sr. decided it was time to pursue a dream that evolved after a particularly intense African bow hunt for Cape buffalo in the 1970s.
John was shooting the best broadheads available, yet, after repeated hits with penetration problems, the buffalo remained on his feet. Full of fury, the buffalo charged. John grabbed a rifle and downed the animal just in time. Before he even left Africa, the still shaken hunter began thinking about how to design a better broadhead.
Several years later, John developed the right-angle, locking-blade base that would eventually define the Muzzy broadhead line. The locking-blade system improved the head's dependability by reinforcing the ferrule, creating an almost solid interior column of stainless steel. John then added another incredible design element – the extended trocar-shaped tip.
John first introduced the blade-locking system and Trocar Tip to the public in 1984, and it was an instant hit among bowhunters. He then decided to produce and market the broadheads himself with the help of his son Johnny and daughter Michele. The company grew slowly but surely. By 1988, Michele and Johnny had basically taken over the operations and John moved into an oversight role. He eventually passed away in 1996 after a long battle with cancer.
Michele took over as CEO of Muzzy Products Corporation and saw to it that Muzzy upheld the principles instilled by her father, such as working hard, persevering, constantly improving and treating people fairly.
"My father was a great mentor and taught us that to be successful, you have to work hard, give your customers the best products and treat people fairly," Michele says. "For 25 years these principles have been what guides us at Muzzy Products and always will."
Over the years, the basic Muzzy design has stood the test of time and has set the standard for broadhead reliability. In addition, Muzzy has updated and improved that design and has introduced brand-new Muzzy broadhead variations, such as the Muzzy MX-4 and MX-3 — shorter broadheads that retain generous-cutting diameters.
Muzzy has increased its lines to include additional broadhead designs, arrow rests, scent products and bowfishing gear as well. Muzzy purchased the basic design for the Phantom broadhead from a Colorado bowhunter named Stan Lauriski. And now, many consider the Muzzy Phantom heads among the best leading-edge broadheads available. New for 2009 is the Muzzy Phantom MX, a shorter 100-grain, four-blade model designed for high-performance bows.
With an old-fashioned appreciation for hard work and integrity, yet with an eye toward the future, Muzzy continues to produce superior products that enhance the hunter's chance for success. Today, 25, years since its beginnings, Muzzy is a bowhunting household name, and its broadheads have become legendary for their "Bad To The Bone" dependability and true flight.
About:
At Muzzy t's about attitude. Some are hunters and some are gatherers. We are hunters. Hunting is one of man's most basic instincts. It is at the core of our being. Undeniable. Some learn to gather, but we were born to hunt. The first tools of early man were the spear, not the hoe. It's about understanding nature, the world as it is, and our place in that world. And it's about acceptance. Accepting the natural challenge of taking a wild animal on its own turf using intelligence, some sharp tools and little else. We accept it because are are more than hunters, we are bowhunters. Different. A breed apart. An elite cadre of the hunting world with the drive to test our skills in nature's own arena. It is who we are. And we are bad to the bone.