New Bushnell DOA Riflescope Reticle
Reticle Includes Rack Bracket Provides Range And Approximate Trophy Size.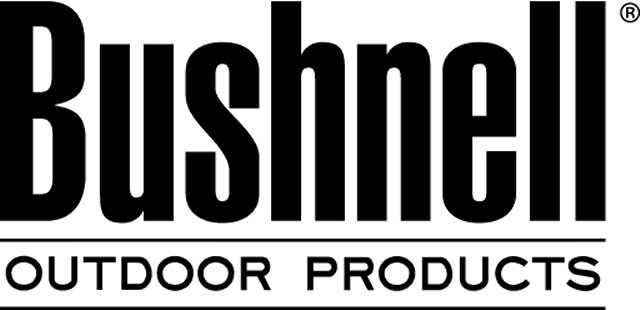 Overland Park, KS – -(AmmoLand.com)- Bushnell introduces the new DOA™ (Dead On Accurate) riflescope reticle that provides both hold-over aiming points and trophy estimation of both whitetail and mule deer. There are two DOA reticles available on a variety of Bushnell riflescopes – the DOA 600™ and DOA 250™. Both are etched glass reticles that are easy to see in any light condition and are unaffected by recoil.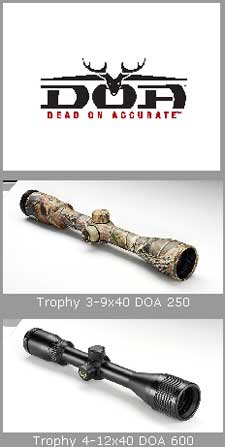 The DOA 600 is calibrated for centerfire rifles with aim points calibrated at 100, 200, 300, 400, 500 and 600 yards. The DOA 250 was designed for use with in-line muzzleloaders (with magnum loads) with aiming points at 100, 150, 200 and 250 yards.
Trophy hunters will appreciate the new Rack Bracket feature of the DOA reticle. To estimate the antler size of a potential trophy deer, with the scope at full power each aiming point has a Rack Bracket reference linethat measures 24 inches (the average distance between the tips of a mule deer's ears) at the indicated yardage. The Rack Bracket hash marks on each crosshair indicate 17 inches or the average width from ear tip to ear tip for whitetail deer.
Range estimation is based on 100-yard zero and average ballistics of centerfire and in-line muzzleloaders. One MOA aiming points provide greater measure of accuracy at all indicated ranges.
The new reticles will be available on the following Bushnell riflescopes:
Muzzleloader-DOA 250
Trophy 3-9×40 w/ 6″ eye relief
Trophy 3-9×40 w/ 6″ eye relief Realtree AP
Centerfire-DOA600
Trophy 3-9×40
Trophy 4-12×40
Elite 3200 3-9×40
Elite 3200 3-9×50
Elite 3200 4-12×40
Elite 6500 2.5-16×42
Elite 6500 4.5-30×50
Suggested retail price for the Trophy Model ranges from $149.99 to $159.99. The Elite 3200 Models sell for $299.99 to $399.99 and the Elite 6500 Models sell for $749.99 to $949.99.
About:
Bushnell Outdoor Products is a global manufacturer and marketer of branded consumer products based in Overland Park, Kansas. Bushnell Outdoor Products sells its products worldwide under the Bushnell®, Tasco®, Serengeti®, Bollé®, Uncle Mike's Law Enforcement®, Stoney Point®, Hoppe's®, Butler Creek®, Kolpin®, Millett®, Uncle Mike's®, Final Approach® and Simmons® brand names. For information about any of these brands or products, please contact Bushnell Public Relations at (913) 752-6105.