EMF Reproduction Remington Model 1875 Revolver Attributed to Hollywood
Rock Island's Fantastic Spring Regional Firearms Auction June 27 & 28, 2009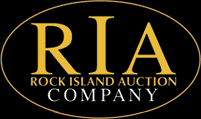 Rock Island Auction Company – -(AmmoLand.com)- This reproduction Model 1875 revolver fires only blanks and features a semi-fancy scroll engraved frame, fluted cylinder, top of barrel, backstrap, trigger guard and ejector rod housing. Blued "barrel, cylinder, and trigger guard" with bright frame and grip straps and fitted with simulated smooth ivory grips.
Consignor reports that this revolver was featured in the 1999 film "Magnificent 7" (starring Ron Pearlman) and the 1993-1998 TV series "Dr. Quinn Medicine Woman" (starring Jane Seymour).
Obtained from the Stembridge Gun Arsenal Collection, a gun provider for the Movie industry that was once housed on the Paramount Studio lot in Hollywood, CA.
Condition:
Excellent plus with approximately 99% of the blue finish remaining with light muzzle wear and some light handling marks. The revolver has been cleaned of its case color to polished metal that exhibits some light handling marks. The grips are excellent with some light handling marks. ( See RIA Auction for Exact Condition Details)
Auction Estimate: $1,300 – $2,500
Auction Details:
Rock Island Auction Company announces the next Regional Firearms auction to be held at their facilities in Moline, IL. The huge success of our premier sale ($8.5 million) proves that people are investing in what they know: firearms are solid investments that hold value through economic downturns.
Investing and collecting opportunities abound at Rock Island's fantastic Spring Regional Auction to be held June 27 & 28, 2009. At a time when the stock market changes daily, gun collectors are seeing the worth of their investments.
Hard assets are the place to invest your money and gun values continue to rise. This auction has firearms for every level of collecting and investing from Colts to Winchesters and the hundreds of high quality sporting arms. Rock Island's continued sell through rate of over 97% proves that items that come to RIA are for sale and now is your chance to make a solid investment.
About:
Rock Island Auction Company has been solely owned and operated by Patrick Hogan. This company was conceived on the idea that both the sellers and buyers should be completely informed and provided a professional venue for a true auction. After working with two other auction companies, Mr. Hogan began Rock Island Auction in 1993. Rock Island Auction Company has grown to be one of the top firearms auction houses in the nation. Under Mr. Hogan's guidance the company has experienced growth each and every year; and he is the first to say it is his staff's hard work and determination that have yielded such results.