This Week on Shooting USA: Long Range Black Powder, Juniors get coaching in Practical Shooting, and Jerry Miculek re-creates his world record.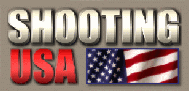 Shooting USA – Creedmoor Re-creation
This time it's black powder, both muzzleloaders and cartridge guns, firing to preserve the famous competition from the past. It's Creedmoor 135 years later and the famous guns from the period when thousands of spectators turned out to watch long range competition. Then the Army Marksmanship Service Rifle Team teaches reading the wind for their kind of long range competition. More Info…
Sighting In With Shooting USA – The AMU — MGM Juniors Clinic
We're Sighting in on the future of practical shooting. It's a clinic on the ranges at Fort Benning to teach USPSA handgun competition to some very lucky juniors. The instructors are the Action Shooting Champions from the Army Marksmanship Unit. More Info…
Shooting USA's Impossible Shots – Ten Guns
Jerry Miculek uses ten revolvers to re-create one of his world records. (60 shots total from 10 guns) Then Bob Munden makes a mess of everyday breakfast foods and Byron Ferguson pulls off an impossible shot by the seat of his pants! Brian Speciale anchors the show with the world's greatest team of exhibition shooters.
Caution: Schedule Change for Impossible Shots. Outdoor Channel is still adjusting the Wednesday schedule to present encore performances of Shooting USA's Impossible Shots. Your Cable or Satellite Menu will not match the following air times:
Shooting USA's Impossible Shots by time zone:
Eastern Time: 8:00 PM – 2:30 AM (Thursday)
Central Time: 7:00 PM – 1:30 AM
Mountain Time: 6:00 PM – 12:30 AM
Pacific Time: 5:00 PM – 11:30 PM
TheShooting USA Hour Block:
Eastern Time: 4:30 PM, 8:30 PM, 12:00 Midnight
Central Time: 3:30 PM, 7:30 PM, 11:00 PM
Mountain Time: 2:30 PM, 6:30 PM, 10:00 PM
Pacific Time: 1:30 PM, 5:30 PM, 9:00 PM
Where is everybody?
This week it's Columbia, Missouri for the 30th anniversary of the famed Bianchi Cup NRA Action Pistol Match. And we've got John and Mike shooting there for bragging rights.
Brian Speciale is on the way back from Phoenix from the NRA Annual Meeting that jammed the convention center to capacity.
Mike Irvine and Greg Simmons covered a duck calling competition this past weekend for our newest series coming this fall.
And I've been taping some new explanations of where the ammo has gone. Those will be linked off the home page of www.ShootingUSA.com this week, to try to cure the myths, rumors, and the panic buying that's hit everything from 5.56 rounds to primers.
It's definitely that busy time of year going up to Memorial Day and the official start of summer.
Have a good week,
Jim    www.ShootingUSA.com