Last Chance To See The New Gun Products Making News This Year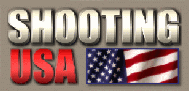 The SHOT Show 2009 – One Hour Special
It's the annual big event for the firearms industry, with all the new products that will make news this year. We're taking you inside the dealers only SHOT Show to see and try the newest guns and gear. It's our annual one hour special from the Shooting Hunting and Outdoor Trade Show in Orlando, Florida. More Info…
Shooting USA's Impossible Shots – Bob's Card Tricks
Bob Munden's ready to cut the cards, his way, with his single action. Byron Ferguson is studying the angles with his arrows. And Jerry Miculek is speed racing with his revolvers. Brian Speciale anchors the coverage of the world's best Exhibition Shooters.
It's 90 minutes of guns, gear, and incredible shooting, on Outdoor Channel Wednesday in Prime Time.
Shooting USA's Impossible Shots by time zone:
Eastern Time: 8:00 PM – 2:30 AM (Thursday)
Central Time: 7:00 PM – 1:30 AM
Mountain Time: 6:00 PM – 12:30 AM
Pacific Time: 5:00 PM – 11:30 PM
The Shooting USA Hour Block:
Eastern Time: 4:30 PM, 8:30 PM, 12:00 Midnight
Central Time: 3:30 PM, 7:30 PM, 11:00 PM
Mountain Time: 2:30 PM, 6:30 PM, 10:00 PM
Pacific Time: 1:30 PM, 5:30 PM, 9:00 PM
The Memorial Day Weekend Winners: Bruce Piatt picked up his 5th Bianchi Cup in the final show-down on the Mover Stage. Helio Castroneves started on the pole and held the lead to win his third Indianapolis 500. David Reutimann wins the Coca Cola 600 in just 340.5 miles after rain shuts down Lowes Motor Speedway.
Among all that winning, here's hoping you took time to remember the meaning of Memorial Day and the patriots who have given all to protect our nation.
See you Wednesday night,
Jim www.ShootingUSA.com