Weaver Raises the Optics Bar With New Super Slam Series Scopes & Binos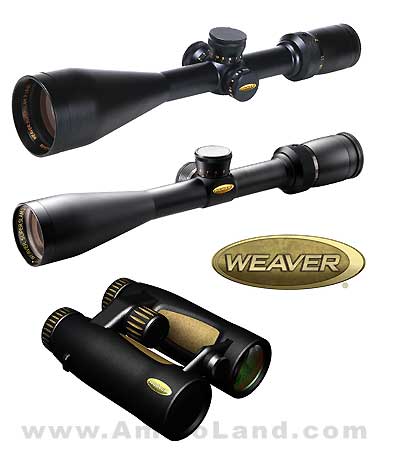 ONALASKA, Wis. – -(AmmoLand.com)- Weaver®, one of the most trusted names in optics, rings and bases and an industry mainstay for over 75 years, announces their new Super Slam™ series (MSRP: $555.49 – $869.95).
This new line of elite riflescopes and binoculars is manufactured in Japan using premium Japanese glass and ascends to the top of the Weaver line. The Super Slam series is scheduled for a mid-year 2009 release.
What Makes A Premium Scope
Engineered to meet the strict standards of the legendary Weaver name, the new Super Slam scopes elevate the Weaver brand with:
Powerful 5 time magnification.
Fully multi-coated lenses with an extra hard coating on exterior lenses.
Side focus parallax adjustment on most models.
Argon purged tubes to eliminate internal fogging
Additional features that make the Super Slam series a premier line of optics include resettable, pull-up turrets which eliminate the hassle of lost turret caps and one inch, one-piece tube construction for waterproof/shockproof/fogproof performance.
"In addition to these great features, the Super Slam also offers our new proprietary EBX™ glass etched ballistic reticle," stated Tom Knudtson, Product Line Manager. "This new reticle allows for accurate bullet trajectory compensation for long range shots and is a perfect compliment to our 3-point erector system with improved spring design."
For Those Who Appreciate 30Mm Tubes
For shooters who prefer 30mm tubes, the Super Slam series includes the Euro Style (MSRP: $599.95 – $954.49) scopes. Containing all the same cutting-edge technology and advancements as the one inch tube Super Slams, the Euro Style series boast a larger tube dimension, first focal plane reticles, additional magnification ranges and illuminated reticle option.
Super Slam Binoculars Round Out Series
The Super Slam series also includes 8.5x45mm and 10.5x45mm binoculars. Each come with binocular strap system and feature SHR lens coating for maximum light transmission, extendable eyecups and roof prism design with SK and BaK-4 prism glass. Additional design enhancements include a focus lock so preferred adjustments can be locked in for the viewer and ED glass for the ultimate in light gathering ability. Torture tested from -20 degrees to +150 degrees Fahrenheit, these binoculars are rugged and ready for any outdoor adventure.
For more information on Weaver's new Super Slam series, visit www.weaveroptics.com.
About Weaver Optics
From the field to the range, Weaver brings more than 75 years of innovation and expertise to the shooting experience. Engineered to be the most reliable optics, rings and bases, Weaver ensures accuracy—shot after shot, hunt after hunt. So whether it's punching paper at the local range or chasing game through the high country, rest assured Weaver is up to the task. For more information on Weaver products, visit www.weaveroptics.com