AMU Shotgun Team Wins Worldwide
By Michael Molinaro
USAMU PAO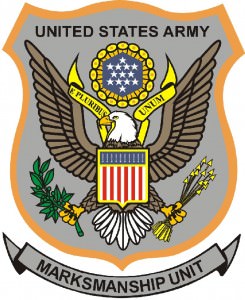 FORT BENNING, Ga. — Soldiers from the U.S. Army Marksmanship Unit's Shotgun team had an extraordinary weekend, winning on both the International and Interservice stage.
At a World Cup Shotgun meet in San Marino, Spc. Joshua Richmond was awarded a bronze medal in the Double Trap event June 20. Richmond tallied a final score of 190, just losing out on a gold medal by three points to eventual champion Junjie Mo of China.
At the Interservice Championships at Fort Benning, Spc. Jeff Holguin crushed the field after a dynamic display, setting two Interservice records and winning the Double Trap event. He was followed by teammates Staff Sgt. Matt DePuydt and Sgt. 1st Class Joetta Dement, making it a clean sweep for the AMU.
In the Trap event, DePuydt took first-place and was followed by Dement, making it an extremely successful weekend for the Army and the AMU.
About USAMU:
The USAMU's mission is to raise the standard of marksmanship proficiency and combat readiness throughout the Army by sharing knowledge gained from competing and winning in national/ international competitions, research and development and advanced training programs while enhancing the Army's recruiting effort through an active public information and public relations program. For more information on the U.S. Army Marksmanship Unit, contact the Public Affairs Office at (706) 545-5436, [email protected] or www.USAMU.com . The U.S. Practical Shooting Association is a nonprofit membership association affiliated with the International Practical Shooting Confederation, which is comprised of approximately 67 nations.