ESPNOutdoors.com Debuts Newly Redesigned Site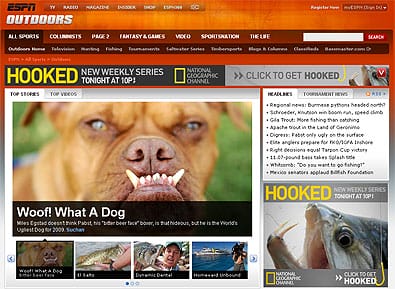 ESPNOutdoors.com – -(AmmoLand.com)- Today unveiled its newly redesigned site, featuring the cleaner, simpler design and navigation experience of ESPN.com and a richer 16:9 video presence on the main index page. New advertising integrations and flexibilities have also been added to the site.
The new ESPNOutdoors.com provides a better user experience, placing particular emphasis on prominently featuring content that Outdoors sports fans want most, all on the main index page. Users can now easily find the day's top stories and videos, separate tabs featuring the latest headlines and tournament news from the Bassmaster Elite Series, a dedicated section for bloggers, tournament coverage with live webcams, real-time leaderboards, tips, product reviews, techniques, Pro Angler Blogs, ESPN Outdoors Saltwater Series Coverage, Duck Trek, sweepstakes and much more.
The redesign comes on the heels of growth for ESPNOutdoors.com, currently one of the largest outdoors media websites in the country. According to comScore, the site has grown more than 15 percent in average monthly unique visitors in 2009 (January-March) compared to the same time period last year. In 2008, the site averaged over 323,000 unique visitors per month and almost 5 million minutes per month — up 32% and 44%, respectively compared to the same time frame one year prior, according to Nielsen Online.
Outdoors enthusiasts can experience the new site at www.ESPNOutdoors.com.
About ESPN.com.:
Get the latest Outdoors news, tournaments, blogs, tips, photos, videos, and more on ESPN.com.