Kriss-TDI To Be Featured On Military Channel'
The Military Channel's 'Ultimate Weapons' Program Will Showcase Kriss Super V Vector SMG.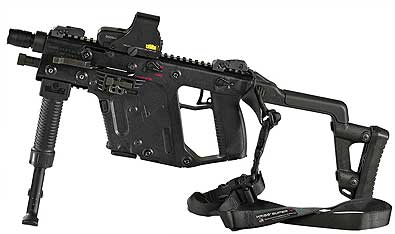 Virginia Beach, VA – The Military Channel will feature the KRISS Super V Vector SMG on its show "Ultimate Weapons." The SMG will be featured on a new segment called "Close Quarters Battle," at 10pm eastern on Tuesday, June 16, 2009 at 10pm EST.
The Military Channel describes the segment as: "Close Quarters Battle is about engaging the enemy at short range. 'Whites of the Eyes' warfare requires weapons that are compact and deadly. Split-second reaction time is vital and the weapon you choose could mean the difference between life and death." Tune in to see the KRISS SMG being put through its paces.
WHAT: KRISS SMG featured on Ultimate Weapons: Close Quarters Battle
WHO: KRISS-TDI
WHERE: The Discovery Channel's Military Channel
WHEN: Tuesday, June 16, 2009 at 10pm EST
About TDI
TDI designs, develops and manufactures advanced weapons technology for delivery into a wide variety of global market segments, including, law enforcement, military, government agency, private security services and civilian sport and recreational use. Bringing together multidisciplinary teams of scientists, engineers and experienced defense professionals, TDI developed the patented KRISS Super V operating system which delivers previously unachievable levels of weapons controllability to professional operators and sports enthusiasts alike. Founded in 2002, TDI is a wholly-owned United States subsidiary of Switzerland-based parent company Gamma Recherches et Technologies Holding SA and is headquartered in Virginia Beach, VA. For more information, please visit www.kriss-tdi.com.