Mule Deer Foundation President & CEO Joins COHA Board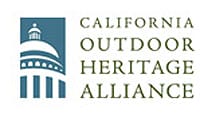 SACRAMENTO, Calif. – -(AmmoLand.com)- The California Outdoor Heritage Alliance (COHA) took another step forward in their efforts to unite the political voice of California's wildlife conservation interests recently when the Mule Deer Foundation (MDF) President and CEO, Miles Moretti, joined the COHA Board of Directors. Mr. Moretti was officially approved as a member of the COHA Board at the annual "Meeting of the COHA Members" held in late April at the Quail Point Hunt Club in Zamora.
"The Mule Deer Foundation is well aware that the greatest immediate threat to the future of our hunting heritage is from political decisions. We are also aware that the state where our community is at most risk is California. With the rest of the nation always looking to follow California's lead, it is critical that MDF take a stand in this trendsetting state," stated Miles. "I have always believed that by working together for a common purpose, we are more effective than when we work alone. COHA provides the opportunity for MDF and others that care about our outdoor and hunting heritage to have a strong voice in the world of California politics." In addition to committing the time of their President and CEO to COHA's management team, MDF has also contributed $25,000 to COHA's annual operations.
In taking a seat on the COHA Board of Directors, Mr. Moretti and MDF have joined ranks with top management representatives of three other leading wildlife conservation organizations who also serve on the Board – including the President of Delta Waterfowl, Rob Olson, National Wild Turkey Federation Board Member and Treasurer, Vince Rosdahl, and California Waterfowl Association Board Members Jim Waters, Yancey Forest-Knowles and Mike Eberhard.
"We are proud to have Mr. Moretti join our Board, and honored to have the Mule Deer Foundation as a member of our growing alliance of wildlife organizations, industry and individuals who care deeply about the future of wildlife conservation and our hunting heritage," stated COHA President, Bill Gaines. "MDF clearly recognizes the significant national impact of political decisions made in California, and we are pleased to have MDF working closely with our Alliance to address these challenges."
About:
The California Outdoor Heritage Alliance is a 501(c) 4 non-profit political advocacy organization dedicated solely to the promotion of wildlife and the protection of our hunting heritage. COHA professional staff is active at the California State Legislature, Congress, State Fish and Game Commission, State and Federal resource agencies and all other political arenas where decisions are made which may impact wildlife management, habitat conservation, wildlife program funding, hunting access and opportunity, and your ability to purchase and possess sporting arms and munitions. COHA currently represents the political interests of nearly every major wildlife conservation organization active in California – including California Waterfowl, National Wild Turkey Federation, Rocky Mountain Elk Foundation, California Deer Association, California Houndsmen for Conservation, Mule Deer Foundation, California Bowmen Hunters, Foundation for North American Wild Sheep, numerous hunting clubs and other outdoor interests. COHA was created in early 2006 by the California Waterfowl Association.
For more information on COHA's membership and efforts visit www.outdoorheritage.org.