Rock Island Auction June Regional Sale June 27 & 28 2009
Catalog online now.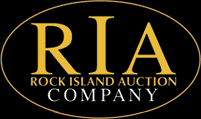 Rock Island Auction Company – -(AmmoLand.com)- Regional Auction Is Only 2 Weeks Away. If you don't have your catalog call 800-238-8022
See Below For Featured Items! Submitting Bids. Don't Wait On Your Sealed/Absentee Bids. In the event of a tie the bidder who submitted the bid first wins the item.
VIEWING
Friday, June 26th 10am – 6pm
Saturday, June 27th 8:00am – 10am full day preview for items being sold Sunday
Sunday, June 28th 8:00am – 10am
AUCTION
Saturday, June 27th, commencing at 10am
Sunday, June 28th, commencing at 10am
FATHERS DAY IS NEXT WEEKEND JUNE 21ST
Do you know what he wants? How about these great ideas!
1. Check out the June 27 & 28 Auction for great gift ideas.
Over 4200 firearms with a wide array of military, hunting, sporting and antique firearms and accessories
Over 400 Winchesters
Over 450 Colts
Over 300 Smith & Wessons
Plus: militaria, edged weapons, ammunition, books, firearms parts, bullet molds and more!
2. The entire catalog is available online in full color at www.rockislandauction.com
Do you know we now offer gift certificates? A RIAC gift certificate gives him the opportunity to invest in what he really wants!
3. A year catalog subscription!
A year subscription would include 3 premiere catalogs and 2 regional catalogs for only $165!
The premiere catalogs provide:
6000+ Full color photographs with numerous detail/close up photos
In-depth descriptions written by industry experts
Prices realized
A great reference for the collecting and dealer markets
Single Auction sets are also available for only $60. Our next premiere auction will be September 11, 12 & 13. The catalogs will mail as early as the end of July!
Plan to attend this event! It is an exciting time for firearms collectors, our last regional auction had standing room only! Browse over 4200 firearms, then bid on your favorite military, hunting, sporting or antique firearm(s) and accessories! Mark your calendar, this is something that you don't want to miss!
Can't attend? You won't miss out! Here are more options for bidding in this auction.
Submit absentee bids on our website www.rockislandauction.com
How to create a web account
How to submit absentee bids
Phone us your bids (800-238-8022)
Fax us your bids download a form and fax it to us (309-797-1655)
Bid Live: For the first time, you can now bid live through artfact.com! If you would like to bid live as the auction happens you can do so using Artfact Live. View our catalog on Artfact.
Contact Information
~~~~~~~~~~~~~~~~~~~~~~~~~~~~~~~~~~~~~~~~~~~~~~~~
phone: 800-238-8022
fax: 309-797-1655
email: [email protected]
About:
Rock Island Auction Company has been solely owned and operated by Patrick Hogan. This company was conceived on the idea that both the sellers and buyers should be completely informed and provided a professional venue for a true auction. After working with two other auction companies, Mr. Hogan began Rock Island Auction in 1993. Rock Island Auction Company has grown to be one of the top firearms auction houses in the nation. Under Mr. Hogan's guidance the company has experienced growth each and every year; and he is the first to say it is his staff's hard work and determination that have yielded such results.