Rock Islands Big Regional Auction is Less Than One Week Away – June 23 & 27, 2009
If you have not submitted your bids now is the time, first bid submitted wins the item in the event of a tie.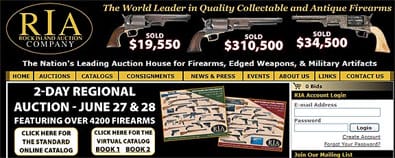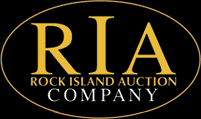 Rock Island Auction Company – -(AmmoLand.com)- Rock Island Auction Company announces the next Regional Firearms auction to be held at their facilities in Moline, IL. The huge success of our premier sale ($8.5 million) proves that people are investing in what they know: firearms are solid investments that hold value through economic downturns.
Investing and collecting opportunities abound at Rock Island's fantastic Spring Regional Auction to be held June 27 & 28, 2009. At a time when the stock market changes daily, gun collectors are seeing the worth of their investments.
Hard assets are the place to invest your money and gun values continue to rise. This auction has firearms for every level of collecting and investing from Colts to Winchesters and the hundreds of high quality sporting arms. Rock Island's continued sell through rate of over 97% proves that items that come to RIAC are for sale and now is your chance to make a solid investment.
Over 2100 Lots
Over 4200 Firearms
Over 3200 Antique or Curio/Relic items
Nearly 300 Smith & Wessons
Over 400 Winchesters
Over 450 Colts
Nearly 500 Shotguns
Also in this auction: ammunition, bullet molds, firearms parts, holsters, cannons, edged weapons, books, military gear, Indian jewelry, saddles and more!
Manufacturers Include: Armalite, Beretta, Browning, Cz, Enfield, Ithaca, Marlin, Mauser, Olympic Arms, Parker Brothers, Remington, Ruger, Savage, Sharps, Springfield Armory, Stevens, Walther and many others!
VIEWING
Friday, June 26th 10am – 6pm
Saturday, June 27th 8:00am – 10am
(full day preview for items being sold Sunday)
Sunday, June 28th 8:00am – 10am
AUCTION
Saturday, June 27th, commencing at 10am
Sunday, June 28th, commencing at 10am
BIDDING OPTIONS
1. Use our secure website
2. Use the bid form in your catalog and fax it in. Or download a bid form fill it out and fax it in.
3. Call us with your bids, 800-238-8022
4. Email us your bids [email protected] (please include lot number and a brief description of item example: Lot 3905 – Winchester Model 9422 – $1,000
If you have a document already prepared you can fax that too. 309-797-1655
5. Attend the auction and bid live! Need Directions?
Feel Confident in you decision to consign
Rock Island Auction Company offers what you're looking for….
Simple Contract, No hidden fees
We sell what is offered at auction
We know guns
We are still seeking consignments for the December Premiere Auction. For more information on sell at auction please call Patrick Hogan or Judy Voss: (800) 238-8022 or email us at [email protected]
Submit absentee bids on our website www.rockislandauction.com
Phone us your bids (800-238-8022)
Fax us your bids download a form and fax it to us (309-797-1655)
Bid Live: For the first time, you can now bid live through artfact.com! If you would like to bid live as the auction happens you can do so using Artfact Live. View our catalog on Artfact.
Contact Information
~~~~~~~~~~~~~~~~~~~~~~~~~~~~~~~~~~~~~~~~~~~~~~~~
phone: 800-238-8022 fax: 309-797-1655 email:
[email protected]
About:
Rock Island Auction Company has been solely owned and operated by Patrick Hogan. This company was conceived on the idea that both the sellers and buyers should be completely informed and provided a professional venue for a true auction. After working with two other auction companies, Mr. Hogan began Rock Island Auction in 1993. Rock Island Auction Company has grown to be one of the top firearms auction houses in the nation. Under Mr. Hogan's guidance the company has experienced growth each and every year; and he is the first to say it is his staff's hard work and determination that have yielded such results.