USA Attempts To Re-Define Switchblades – Could Make Many Pocket Knives Illegal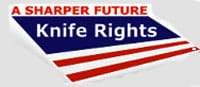 Washington, DC – -(AmmoLand.com)- U.S. Customs has proposed revoking earlier rulings that assisted opening knives are not switchblades.
The proposed new rule would not only outlaw assisted opening knives its broad definition could also easily be interpreted to include one-handed opening knives and even most other pocket knives.
Note that customs interpretation of the Federal Switchblade Act forms the basis for national, state and even local law and judicial rulings in many cases. The effect is NOT limited to just imports.
Knife Rights and AKTI are formulating a response and will each be asking for an extension to the ridiculously short 30 day comment period. PLEASE DO NOT WRITE JUST YET. Within the next week we will post a form letter and talking points for your use. We will then need you to write and MAKE YOUR VOICES HEARD!
In the meantime download the 63 page document and read it for yourself.
JOIN KNIFE RIGHTS TODAY!
About:
The first step to building an effective advocacy group is building the membership. Power comes from numbers. Knife Rights offers a range of Charter Memberships and there's one that will suit you perfectly. Invest a modest sum in A Sharper Future. JOIN NOW!
Encourage your friends to join Knife Rights and you can win a custom knife in our Member-Get-A-Member progam, as well as free annual memberships.