How Amendment 1447 Solves the Customs Switchblade Issue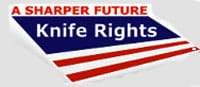 Washington, DC – -(AmmoLand.com)- Many have asked how this Amendment 1447 would solve the Customs switchblade issue.
We have received numerous requests to explain how Amendment 1447 would solve the problem with Customs & Border Protection's proposed revocations and rulemakings along with their novel interpretation of what a switchblade is. We have laid out the reasoning below. This just covers these particular issues. The new exception may also offer additional salutatory benefits to knife owners that we will examine at a later point.
There are two issues to be reviewed. First, the language in the amendment clearly covers virtually all non-automatic folding knife mechanisms, regardless of whether they have a spring assist or not, or whether they are designed to be opened with one hand or not. These style folders are biased toward closure as compared to a conventional switchblade in which the spring is constantly applying pressure on the blade when the blade is closed and thus it is biased toward opening, requiring only the release of the blade to open automatically.
Second is the question of how this applies to Customs and how it will regulate their actions vis-a-vis such knives and eliminating their most recent interpretation of the Federal Switchblade Act.
To fully understand the applicability of the amendment, it is necessary to understand its relationship to Title 19 of the Code of Federal Regulations, which is the regulation that describes those duties delegated to several government agencies, including the United States Customs and Border Protection Agency.
The applicable text is codified at 19 C.F.R. § 12.97, and directly concerns switchblade knives and makes their importation illegal. However, the drafters of Section 12.97 created an exclusion that permits the importation of certain types of knives that might otherwise be captured by the provision. These exceptions are codified in statute at 15 U.S.C. § 1244, and are deemed "exceptions" because the specific types of knives described do not fall under the purview of Section 12.97's restrictions. For these reasons, if Section 1244 is amended so as to incorporate the assisted-openers and one-hand openers, these knives will not be considered unlawful under the Switchblade Knife Act of 1958 (15 U.S.C. § 1241 et seq.), and consequently, their import into the United States will be permissible.
Read the complete discussion here: http://bit.ly/Mwd5E
We still have one more significant hurdle to overcome, Conference Committee. We're working very hard, hand in hand with the other advocacy organizations involved and our friends in the House, to try to ensure it makes it through the Conference Committee. Expect more on that next week.
NEWS FLASH: Just in. Our representative who went down and hand counted the letters reports that the final count of Comments letters mailed to Customs is 5,200!!! That is incredible; more than two and half times the original Customs estimate. It is a testament to your outrage over Customs' heavy-handed actions and your dedication. That flood of letters put Customs on notice that they were not going to get away with this without a fight. Thanks to everyone who made that effort to mail their letters to Customs!
Review Knife Rights' original announcement: http://bit.ly/Vg6Y6
You can read relevant announcements from some of the involved parties here:
NRA-ILA: http://www.nraila.org/Legislation/Federal/Read.aspx?id=5043
Sportsmen's Caucus: http://tinyurl.com/lnvahb
Senator John Cornyn [R-TX]: http://tinyurl.com/nbnuh9
Senator Mark Pryor: [D-AR] http://tinyurl.com/ldjk9v
Senator Orrin Hatch [R-UT] http://tinyurl.com/l4zess
Doug Ritter
Chairman / CEO
Knife Rights, Inc.
Knife Rights Foundation, Inc.
www.KnifeRights.org
About:
The first step to building an effective advocacy group is building the membership. Power comes from numbers. Knife Rights offers a range of Charter Memberships and there's one that will suit you perfectly. Invest a modest sum in A Sharper Future. JOIN NOW!
Encourage your friends to join Knife Rights and you can win a custom knife in our Member-Get-A-Member progam, as well as free annual memberships.
Email: [email protected]