Amendment To The Federal Switchblade Act Has Passed In The Senate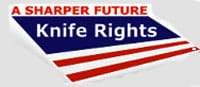 Washington, DC – -(AmmoLand.com)- The amendment to the Federal Switchblade Act has passed in the Senate. After passage of the DHS Appropriations Bill, expected this evening, next stop will be Conference Committee.
View the amendment here: https://www.KnifeRights.org/SAmdt%201447.pdf
You deserve to give yourself a big pat on the back for this. It was your letters, faxes and emails that led to this success. This amendment will stop Customs' rulemaking and protect your pocket knives with a permanent solution.
Our thanks to Senators Cornyn, Pryor, Hatch, Vitter, Risch, Chambliss, Corker, Enzi, Barrasso, Graham, Roberts, Wyden and Crapo for co-sponsoring this amendment.
We only have one more hurdle, getting through the Conference Committee. Our legislative consultants are already working on that in cooperation with the other advocacy groups and the House members who have been supporting this effort from early on. We should know by early next week what, if anything, we need to do to help that process.
It is never a done deal in politics, until it is actually done. Having said that, we have shown ourselves to be a force to be reckoned with. Right now its time to celebrate our success so far, having overcome great odds to get to this point. We'll be in touch again once we settle on the most effective strategy for the next step.
Thank you again for all your efforts and for your contributions. If you haven't yet made a contribution or become a member of Knife Rights, please consider it now. This success did not come cheap, and we are still not yet done. We still need your financial support.
Doug Ritter
Chairman / CEO
Knife Rights, Inc.
Knife Rights Foundation, Inc.
www.KnifeRights.org
Email:
[email protected]
About:
The first step to building an effective advocacy group is building the membership. Power comes from numbers. Knife Rights offers a range of Charter Memberships and there's one that will suit you perfectly. Invest a modest sum in A Sharper Future. JOIN NOW!