Arizona Waterfowl Stamp Program Breaks New Ground With Two Stamps
Artwork selected from award winning artist and elementary school student.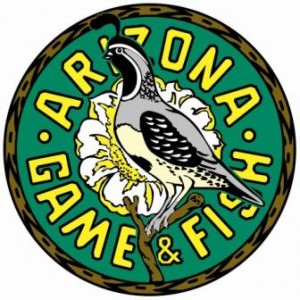 PHOENIX, AZ – -(AmmoLand.com)- There are three great reasons to pick up a 2009-2010 Arizona Waterfowl Stamp from the Arizona Game and Fish Department.
The reasons start with the beautifully detailed and life-like rendition of a pair of hooded mergansers by the 2006-07 Federal Duck Stamp winner Sherrie Russell Meline.
Meline is well known for her impeccably textured feather work, using an acrylic wash, delicately applying layer by layer from a self-mixed color palette. Meline's artwork has graced the face of more than 30 other state and Canadian province duck stamps.
Secondly, for the first time ever, an alternative stamp is available – unofficially deemed the state's junior art duck stamp.
"We created it in partnership with the U.S. Fish and Wildlife Service to recognize young inspiring artists who are learning about the importance of wetlands and waterfowl conservation through the Federal Junior Duck Stamp program," said Mike Rabe, duck stamp administrator and migratory bird biologist for the department. "It's really a neat thing and I'm glad we are able to do it."
"To be able to recognize the contribution of our Arizona kids in this state category is truly heartwarming and inspiring," said Margot Bissell former Arizona Junior Duck Stamp Coordinator with the Cabeza Prieta National Wildlife Refuge. "Now our young artists have the excitement of a second opportunity to display their conservation and artistic learning's."
Ten-year-old Olivia Raiff, of Scottsdale, has the honors of being the first young amateur artist from the competition to have their artwork featured on the state's annual waterfowl stamp.
"When I got the phone call, it took me awhile to process that I won," said Raiff. "Then I was in shock for a minute. I couldn't think straight when the judges asked me questions. It still seems crazy now."
Raiff, a fifth-grader from Pinnacle Peak Elementary, created an inspiring piece of art of an American widgeon taking flight out of the cattails titled "take-off" using watercolor pencils under the passionate guidance of art teacher, Gay Kohl. Her composition captured the realism of the duck's wings direction at first flight, identified accurate habitat, and incorporated a flock of ducks in the sky off in the distance.
When asked what she liked best about the art program, Raiff added, "I like it all, but my favorite part would be the competition. I always try to add details that would make my picture stand out."
A limited run of 500 of the alternate stamps are available for purchase, but only from the department's headquarters office in Phoenix. Hunters and collectors can chose to purchase one or both of the stamps. Either stamp will validate a general hunting license (along with a federal duck stamp) for the legal take of waterfowl, ducks, and geese during the 2009-10 season.
Lastly, the good news is the money generated from the sale of the state's waterfowl stamp is used to for the conservation of wetlands to benefit Arizona's waterfowl species. When buying either stamp, you are supporting waterfowl conservation. Now in its 22nd year, some of the investments from the program have resulted in amazing resting grounds for wintering sandhill cranes, geese, waterfowl and many other birds and wildlife.
So, if you enjoy wildlife watching, birding or just beautiful wetland landscapes, show your support for wildlife and artists and buy an Arizona Waterfowl Stamp – the cost is only $8.75. They can be purchased at any Game and Fish office or license dealer around the state.
For a list of where to find ducks in Arizona, visit www.azgfd.gov/h_f/waterfowl_habitat.shtml.
To learn more about the Federal Junior Duck Stamp art contest, visit www.fws.gov/juniorduck.
Note to media: High-resolution photos of the 2009 Arizona Waterfowl Stamps are available by contacting Public Information Officer Doug Burt at [email protected] or (623) 236-7215.
About:
The Arizona Game and Fish Department prohibits discrimination on the basis of race, color, sex, national origin, age, or disability in its programs and activities. If anyone believes that they have been discriminated against in any of the AGFD's programs or activities, including employment practices, they may file a complaint with the Deputy Director, 5000 W. Carefree Highway, Phoenix, AZ 85086-5000, (602) 942-3000, or with the Fish and Wildlife Service, 4040 N. Fairfax Dr. Ste. 130, Arlington, VA 22203. Persons with a disability may request a reasonable accommodation or this document in an alternative format by contacting the Deputy Director as listed above.