Charter Arms Blade Runner Revolver Sells For $258,750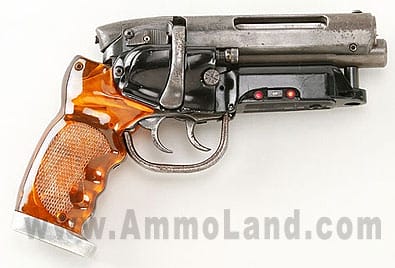 Charter Arms, Dayton, OH, – -(AmmoLand.com)- Sold at auction in May 2009 for $258,750 (not including buyer commission–estimated total $270,000) the one and only prop-pistol used by Harrison Ford's character in the 1982 futuristic 2019 movie, Blade Runner.
The so-called Hero Gun was used to blast artificially-created people called replicants (they so deserved it too).
A Charter Arms .44 Special Bulldog revolver with a 4-inch barrel formed the base for the blaster. Attached to the top of the pistol is a bolt action Steyr Mannlicher SL receiver in .222 Remington. The rifle magazine extends below the revolver's barrel and there is no barrel on the rifle receiver-it just rests atop the Charter Arms barrel, looking cool in a ugly sort of way.
The Bulldog is fitted with two double set triggers which we assume are from the Steyr action and a large custom-made trigger guard. Custom stocks (grips) were constructed from amber colored plastic and were fitted to the Bulldog frame along with an aluminum grip base extension. The cylinder area was covered with a smooth panel for streamlining. Ya gotta figure the thing must weigh a ton.
Two-red and green operator-functioned LEDs were built into the handgun. They perform no function (well then again, what are we saying, nothing else performs a function either) but they look cool when functioned in the movie.
It is rumored that this particular revolver can still fire. Oooookay, Looking at how the rifle magazine is fitted, if that day comes, and we are offered the opportunity, someone else can have that honor; we still have all ten of our digits.
It may still have to be registered as an actual firearm since it has, well, two actual firearm receivers each with serial numbers.
How parts of that 4473 Federal form might read:
Type: Replicant Blaster
Manufacturer: Charteyrman,
Action: revolrifl
Caliber: .222.44 RemSpec
Serial Number: 522368588594355
Having seen Blade Runner a couple of times we admit, we just never noticed/analyzed this stuff, just saw a cool looking gun zapping bad guys.
This gun is so popular that replicas (oh, oh, more replicants) are made and sold in airsoft versions, and some hobbyists have created beautiful and accurate copies.
Just in case someone really ask's… No, Charter Arms will not be building these.
About:
Charter Arms – Setting the American Standard for Reliable, Safe and Affordable Personal Protection.